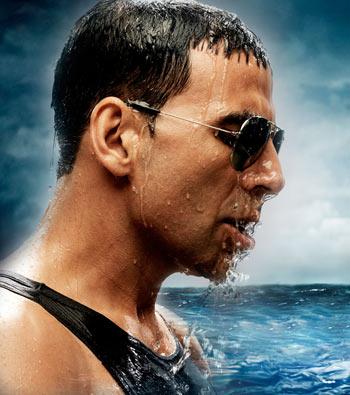 One would think that after suffering a number of flops, Akshay Kumar would be feeling low.
But far from feeling blue after critics panned his latest film Blue, the actor has decided to get philosophical as we found out when we cornered the actor at an event promoting karate and martial arts in Mumbai on Wednesday.
Though Blue recorded a bumper opening last weekend, the reviews have been not been flattering, with some saying that the film lacked soul, a view which Akshay surprisingly didn't deny.
"A lot of people said Blue lacks soul," Akshay said. "I absolutely agree because I wasn't aiming to make a film which had a soul. I was just aiming at an action flick. Just look at Transformers or the Bad Boys series. Where is the story line in these films? Blue is an action film. I never said I was doing a story-based film," he said, adding, "When you do an action-based film, it becomes very difficult for the writer and director to put in scenes like maang mein sindoor barna, maa sentiments, bhai-behen ka pyaar and all that.
"All said and done, I don't want to justify anything," he continues. "Everybody has their own individual opinion and I respect that."
Asked whether a string of flops has affected his career, Akshay replied, "This is not the first time in my career graph where I have delivered a flop. There was a time when I had delivered 14 flops at a stretch. So I think I have 10 more to go."