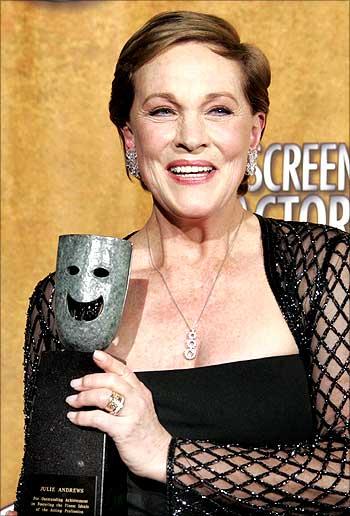 Eleven years after a botched throat operation that robbed Julie Andrews of her singing voice, there's new hope for the Sound of Music star.
The singer/actress is expected to be one of the first patients in the world to have man-made tissue injected into her voice box, reports Telegraph.co.uk.
Andrews, 74, whose vocals once spanned four octaves, had undergone surgery in 1997 to remove non-cancerous nodules from her throat, but the operation left her unable to sing.
The actress then filed a medical malpractice lawsuit against doctors at New York's Mount Sinai Hospital, but settled the case out of court in 2000.
According to the National Enquirer, she has struggled to regain her singing voice ever since and is struggling to come to terms with losing her vocals forever.
'My voice is pretty much non-existent, but what can you do? Life has a way of throwing things at you that you never expected,' the Daily Express quoted Andrews as telling a close pal.
But the thought of never being able to sing again is causing Andrews serious heartache.
'Julie is trying to put on the best face possible, but it's killing her that she can no longer sing like she used to. It must be agony,' a source told the tabloid.
'She loves to work and dreads retirement, and wishes she could still use her God-given talent,' the source added.
But if Professor Robert Langer, a tissue engineer at Massachusetts Institute of Technology, along with voice specialist Dr Steven Zeitels are successful, Andrews can put her retirement plans on hold.
The duo have developed a technique that involves removing scar tissue from the vocal cords and then injecting a gel called polyethylene glycol to replace it, reports Telegraph.co.uk
While the man-made substance specially designed to mimic the elasticity of the natural vocal cord without being rejected by the body, has been successfully tested on animals, it hasn't been tested on humans yet.
'The substance is designed to vibrate and behave just like a vocal cord,' Telegraph.co.ik quoted Professor Langer as saying. 'The animal trials have been very promising.'
So will Andrews be the first guinea pig for the new treatment? Watch this space.
Image: Julie Andrews holds her lifetime achievement award backstage at the 13th Annual Screen Actors Guild Awards in Los Angeles.
Photograph: Lucy Nicholson/Reuters