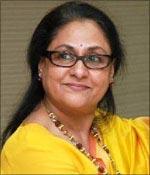 Veteran actress Jaya Bachchan is not keeping well and even as doctors are doing their bit Amitabh Bachchan is worried.
"Jaya has taken ill!! Suddenly !! And I am with the doctors now investigating the problem. It's never good to see her like this for she rarely gets in such condition," Bachchan wrote on his blog.
What leaves the megastar concerned is his wife's reticence towards medical treatments.
"And because of this she is most reticent to any doctor visit, and more, tablet treatment. But we persist and they have done their bit and gone. The medications have been administered and hopefully she shall have a better night," the 67-year-old actor wrote. PTI