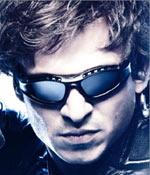 Bollywood has had a Shahenshah, then later a Baadshah. We haven't had a Maharaja for the simple reason that most people would believe it's a corporate documentary for Air India.
And now this week's latest offering Prince starring Vivek Oberoi. There is always a blueprint to such films. The entire film revolves around the lead actor and all the other characters exist simply as props on whom the hero merely hangs his coat. Unfortunately for the poor audience, there is little to distinguish between Vivek Oberoi and a wooden peg.
Prince (Vivek Oberoi) wakes up one fine morning with complete amnesia and a wound on his arm. He has no idea who he is, where he's come from and which way he's headed. But even in this groggy injured state his survival instincts are unhampered; he doesn't hesitate to spring out of bed and get into a fistfight. 
As Prince sets out to recover his memory he realises there are many people chasing him. Each one gives him a different version of his life. Was he always evil? Or is it a guise? Is there anybody whom he can trust? One thing is certain; his days seem to be numbered.
The director has started out with the intention of serving old wine in a new bottle. It's worked before and if done in a clever, adept manner there is no reason why this formula should not succeed again. Dhoom and Dhoom 2 are classic examples which come to mind. But Prince is old wine dished out in an antiquated haphazard manner. Resulting in three hours of sheer torture.
Even as Prince can't trust his colleagues, he stumbles upon his girlfriend Maya. Then she disappears into thin air. As he sets out to find her yet another Maya appears. The second one also claims to be his girlfriend. And then another. By which point the viewer has lost all interest in Mayas or Prince or the plot. All one prays for is that the film should end soon.
Memories never get wiped out by accident, they are erased intentionally. They can then be stored on a disc. As simple as transferring data from one hard drive to another! So Prince's memory is out there, somewhere in this whole wide world and Prince is looking for it. Memories are erased and hard drives are implanted in the cerebellum sitting in corporate offices. And no it's not a sci-fi film. It's a run-of the mill masala movie.
The script is written by Shiraz Ahmed the same person who wrote Race. Was it the director's insistence or did he believe the audience was totally gullible. The action director is Allan Amin who is considered to be one of the best. But the fight scenes are repetitive. Something one has seen in some film or the other over the last decade.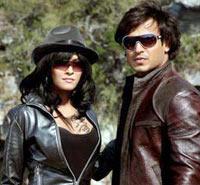 The director Kookie Gulati has been heavily influenced by Bollywood of the '70s. Thin moustaches, a profusion of gold chains hanging around the neck, transmitters attached to shoes, safe deposit lockers which can be picked with ease, these devices were accepted by the audience two decades ago. Today these work only as a homage that era. Om Shanti Om pulled it off successfully. Kookie Gulati falls flat on his face.
The Mayas have been played by unknown faces and they don't make much of an impact either. Apart from Nandana Sen the other two are unknown faces and they are likely to stay that way.
Leather, leather and more leather! Vivek Oberoi sports leather jackets through most of the film. His Mayas wear leather, the good guys and the goons both wear leather.  It is tempting to believe either the producer or the director runs a tannery as a side business.
But the most crippling aspect of the film is the dialogue. The words cliched or hackneyed simply fail to convey the ridiculousness of the dialogue.
There is just one aspect where the director has hit the target. Casting Vivek Oberoi as the amnesia-ridden, confused protagonist!  Vivek doesn't have to act much just look lost and forlorn. He manages it admirably.
All in all, this film is best avoided. Even Vivek Oberoi's ardent fans must give it a miss. They may no longer be his fans at the end of three hours.
Rediff Rating: