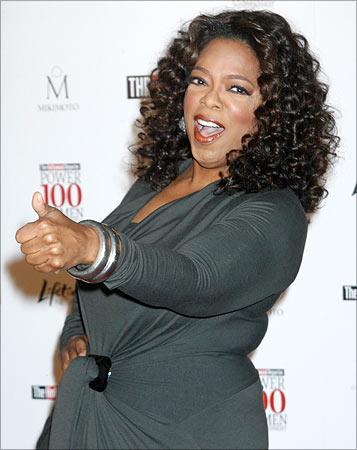 Oprah Winfrey has repeatedly lied about her upbringing and made up stories about sexual abuse to boost her reputation, a new book claims.
The talk-show queen has always maintained that she grew up so poor in rural Mississippi that she never had any new dresses or dolls and could only keep cockroaches as pets.
However, a new biography has claimed that Winfrey was spoiled as a child.
In the biography Oprah, author Kitty Kelley has claimed that Winfrey's tales have alienated her from much of her family.
'Where Oprah got that nonsense about growing up in filth and roaches I have no idea,' the New York Post quoted Winfrey's cousin Katherine Carr Ester as saying in the book.
'I've confronted her and asked, ''why do you tell such lies?'' ... Oprah told me ''that''s what people want to hear -- the truth is boring'',' Katherine added.
Vernon Winfrey, the talk show host's adoptive father, reportedly told the author he felt "ashamed" about her lies.
'She may be admired by the world, but I know the truth; so does God and so does Oprah,' he said.
Photograph: Fred Prouser/Reuters