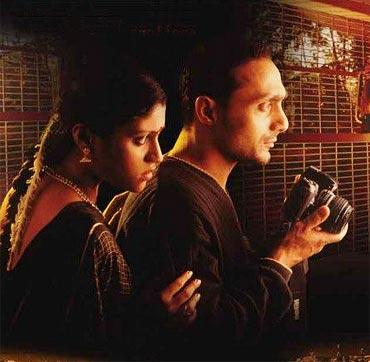 We asked readers to send us their favourite and funniest Bollywood bloopers they spotted.

Reader Jenny shares with us a blooper that she has spotted in the movie Mr and Mrs Iyer.
In the film, Rahul Bose's character Raja is a photographer. He mentions that he has shot pictures of the Chidambaram temple, which is in Kerala. But the Chidambaram temple is actually in Tamil Nadu.
What is surprising and funny is that Meenakshi -- played by Konkana Sen Sharma -- is shown as a Tamilian. So why didn't she figure it out?
Have you spotted any Bollywood bloopers recently?
Tell us about your favourite and funniest! Keep the Bollywood bloopers coming, guys!
Also Read Ash-Salman's big mistake!
When Big B, Aamir goofed up!
Aamir Khan goofed up in Jo Jeeta Wohi Sikander
Bollywood's movie bloopers