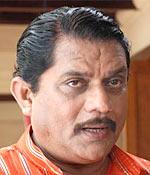 Every other week, while watching a new film release in the theatres, we feel the film cannot get worst than this. And yet, there comes another film that makes us think that Malayalam cinema is a bottomless pit!
This is the thought that crosses one's mind while watching the Malayalam film, Senior Mandrake, the sequel to last decade's comedy Junior Mandrake. The times were different then, and humour was also considered serious business. People invested time in developing a story.
Now, director Ali Akbar stretches the plot further and makes a new film out of it. The new version puts you off so much that even remembering scenes from the film is bound to send shivers down your spine.
Filmmaking can be a stressful job as you have to work under a lot of constraints. The person watching the final outcome cannot even fathom the problems, and that compromise is the second name for direction. Still, it is no excuse for shoving something so tacky down the viewer's throat that will put the worst films to shame.
Starring the stalwarts of humour like Jagathy Sreekumar, Jagadeesh, Kalapana, Suraj Venjaramoodu and others, one wonders how these actors were hooked by the producers to be a part of something like this. The story is better left untouched.
On the whole, Senior Mandrake may make you wonder why you are not addicted to television like many others, who have deserted cinema halls, seeking entertainment in the comfort of their drawing rooms.
Rediff Rating: