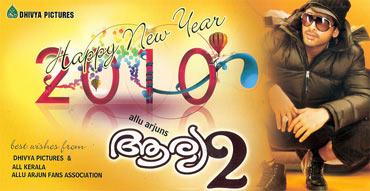 Telugu star Allu Arjun is now a hot and happening star in Kerala and Karnataka -- something rare for a young star from Andhra Pradesh.
Arjun's latest Telugu film Arya 2 is dubbed into Malayalam and releasing on February 5.
Divya Pictures Palakkad is releasing the film on a huge scale with 100 prints. The film has in fact done business of Rs 2 crore prior to its release. 
The stylish star's earlier films like Happy, Arya, Desamuduru and Parugu have all been dubbed into Malayalam and released in Kerala where they have done very well.
"I am happy my films have done well in Kerala," says Arjun, who has been communicating with his Malayali fans on and off.
Arjun, who participated in the Asianet awards recently, also hopes to take part in functions organised by his fans (like blood donations) where he can get an opportunity to interact with them. Due to the respect and admiration of his fans, Allu Arjun has said his fans can call him "Mallu Arjun."
On account of his popularity, Arjun wanted to shoot parts of his film in God's own country. His forthcoming movie Varudu, currently in production, was shot in Kochi and Palakkad.
Arjun says he also wants to act in "bi-lingual (Telugu-Malayalam) and trilingual (Telugu-Tamil-Malayalam) films in future".