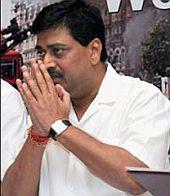 Under fire for not being able to prevent attacks on multiplexes by Shiv Sena activists, a defensive Maharashtra Chief Minister Ashok Chavan on Thursday said that 'threats and vandalism' are not in the interest of the state.
Chavan, who is facing a lot of criticism after Sena activists protesting against film star Shah Rukh Khan's statement on inviting Pakistani players to the Indian Premier League, have vandalised many theatres prompting many theatre owners to stop screening the film.
Reacting to the criticism, Chavan said, "We have to remove police personnel from Naxal areas and re-deploy police personnel, who are working on terror threats, this is not fair."
He, however, added that the government would do everything in its power to ensure the film's release.
"I appeal to theatre owners that they should screen the film, we will provide them full security. However, if they don't release we wont be able to do much. We are geared for any eventuality."
Chavan's helplessness could be seen when he indirectly also appealed to the Sainiks by saying that such acts of 'threats and vandalism' were not in the interests of the state. In a bid to show that the state has not been a mute spectator, Chavan reeled out figures to say that more than a 1000 Sena activists have been booked and arrested for the violence and the state is stringently opposing their bail.
Chavan's assurance, however, has not gone done well with the multiplex owners who are still shy of screening the films. Many multiplex owners like PVR, Fun and Inox have decided to stop the screening. This even as the film's director Karan Johar tweeted to say that this wasn't so. In all, 47 single screen theatres across the state that have also decided not to screen the movie.
Shah Rukh, however, is leaving no stone unturned in a bid to get his film screened across the state. It has been learnt that he would be speaking to big multiplex owners via video conferencing in a bid to have his movie screened. However, there was no confirmation on whether the video conferencing took place or not.
If you happen to notice any violence or demonstrations against MNIK, here's your chance to play Citizen Journalist and report it! And If you want to support MNIK's release, just 
click here
!