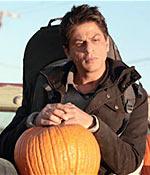 How's the chicken?' asks the hostess.
'It's not very good,' says Rizvan Khan truthfully. There's laughter, because the answer is truthful, yet innocent of malice -- Rizvan, the Asperger's Syndrome-afflicted protagonist of Karan Johar's My Name Is Khan is incapable of lies or malice -- and a tense situation is defused.
This is also what the movie is about -- a tale about a man who is 'different' and how the lives of those around him are affected because of his 'difference.'
Those of you who have seen the trailers, and most of you haven't, will know this is a love story between Shah Rukh Khan (Rizvan) and Kajol (Mandira), that the destruction of New York's Twin Towers impacts their relationship and that Rizvan has an overpowering need to meet and tell the president of the United States that his name is Khan and he is not a terrorist.
That, essentially, is the 'plot' of the film, and I won't tell you more, because you might otherwise feel like posting some not-very-complimentary messages to me on the message board below. :)
But here's what I will tell you.
My Name Is Khan is a true Bollywood product -- it makes you laugh, it makes you cry, it even makes you shake your head at the occasional 'Bollywood' touches director Karan Johar just can't seem to resist (he could have, for example, avoided the pre-interval pan shot to the Koran; the message would have come through just as effectively).
It takes you though parts of America that Bollywood has not explored before -- Georgia, for instance, gets quite a bit of footage -- and uses American characters not showcased by mainstream Bollywood earlier -- Mamma Jenny and funny hair Joel, take a bow.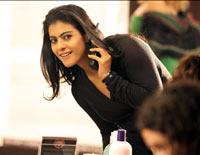 The film, like all Karan Johar products, is beautifully cinematographed (director of photography Ravi K Chandran). The difference this time is it is not the typically bright coloured, candy floss flavours that permeates Karan's films.
If there is one quibble, it would be the fact that Karan Johar could have made effective use of the talented bunch of actors who make cameo appearances.
Good actors, even in cameo roles, make an impact -- as we have seen in many films recently. In My Name Is Khan, they are unfortunately wasted. Anyone, for example, could have played the roles Vinay Pathak or Sumeet Raghavan did. Praveen Dabas, in fact, was miscast -- Sumeet Raghavan would have been much more effective in the same role.
The lead pair, however, is clearly well-cast; Shah Rukh and Kajol share a superb chemistry that highlights all their films, and is an important part of My Name Is Khan.
There are three films in which I have really liked Shah Rukh Khan (yes, I do like him otherwise too, SRKisms and all, because he can make you smile) -- Saathiya, Swades and Chak De! India. To that, I'd add My Name Is Khan.
I've never met anyone afflicted with Asperger's Syndrome, so I can't say with certainty that Shah Rukh has portrayed the condition correctly. But he is believable and makes you like and feel sympathy for Rizvan at the right moments. It's the first time in the star's 18-year-long career (his first film was Deewana in 1992) that he has essayed such a character. He's not the chocolate hero, he's not beating up the bad guys, he's not trying to look good or entertain you as Shah Rukh Khan. And it works!
Kajol is, as usual, superb. Mandira's laughter, her determination, her joie de vivre, her grief, her anger -- Kajol brings it all to life. And, if I may say so, Kajol, no one runs up a hill dressed in a night suit, wearing floppy slippers, with no make-up on, as well as you do.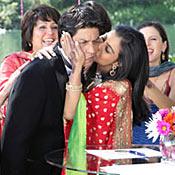 Others, too, do well -- Sonya Jehan is very beautiful and portrays her part with great sympathy and, hopefully, we will get to see more of this talented actress.
Tanay Chheda (Taare Zameen Par, Slumdog Millionaire) is clearly very talented and does an excellent job as the young Rizvan.
Arjan Aulja, you were excellent. I wish I could talk more about what you did, but it would give the plot away.
A special mention for Zarina Wahab; she is the sensitive, intelligent mother who cannot help giving more attention to her elder, autism-afflicted son. Zarina's speaking eyes reflect her unrelenting desire to see him make something of his life, and her simple, yet effective explanations to a son who cannot understand the world's ways, her sorrow when she sees her younger son suffer...it's an applause-worthy performance.
Let's end this review with the climax -- it's a tad filmi, and there were some bits that I thought were a slight stretch of the imagination. But hey, this is a Karan Johar film and everyone likes a happy ending!
Rediff Rating:

Do you want to watch My Name is Khan? Click here!
If you come across any violence or demonstrations against My Name is Khan, here's your chance to play Citizen Journalist. Report it!