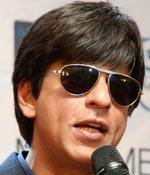 Shah Rukh Khan seems to be fed up of the controversy arising from his comments on including Pakistani players in the forthcoming Indian Premier League cricket matches.
The actor, who is currently in Berlin, tweeted extensively about his stand on the whole issue.
'This is the last time I clarify or say anything on this topic. This is not a justification, its just reiterating the facts,' the actor tweeted. 'Anyone asks me about this issue anymore... they can read my tweets. Now wot happens with the release the film, is the films fate.'
The protests by Shiv Sena activists and subsequent damage to cinema halls in Mumbai releasing his new film My Name is Khan have saddened the actor, who said that all he wanted was just to 'enjoy my film everywhere.'
'Nobody wants the Mumbaikers or their property hurt & destroyed. Least of all me,' he said in his tweets adding that he hopes his tweets can 'clear this cloud of confusion. I hope peace prevails & the city is at rest.'
Reacting to the Sena's accusation of him being a traitor for taking the cause of the Pakistani players, the actor tweeted, 'My name is Shah Rukh Khan... and I think it is more than just a name. My mother & father had told me so & my son & daughter believe it so…if my partners lose so be it. If I lose so be it. My stardom is transient. My integrity in non negotiable...My being Indian unquestionable.
'I may not have the same ideologies as the Sena but on the question of me being a patriot, I don't think there should be any confusion.'
SRK added that he feels 'awful that Balasahib & Uddhav have misconstrued my words. The reactions of the Sena workers seems to make me believe that.'
Terming the protest against his movie ironic and sad, Shah Rukh said, 'A film made for world peace has led to so much angst in my own house. my city, my country. Let not anyone be hurt is all I pray.'
Do you support the release of My Name is Khan? Click here!