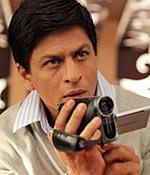 Shah Rukh Khan-starrer My Name is Khan has become Bollywood's most successful box office opener in Britian.
The movie, which was engulfed in controversy during release after a row between its star Shah Rukh and Shiv Sena, has already grossed more than 936,000 pounds since hitting screens.
The film has entered the UK box office charts at number six.
Shiv Sena got angry after the actor said Pakistani players should be included in the Indian Premier League Twenty20 cricket competition, reports The BBC.
UK Top 10
1. Valentine''s Day
2. Avatar
3. The Wolfman
4. The Princess And The Frog
5. Percy Jackson & The Olympians: The Lightning Thief
6. My Name Is Khan
7. Invictus
8. A Single Man
9. Alvin And The Chipmunks: The Squeakquel
10. Astro Boy 
Read the reviews here: Raja Sen | Savera R Someshwar | Sukanya Verma
Did you watch MNIK? What did you think of it?