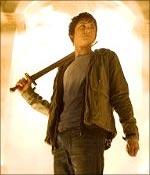 Teenie boppers have been eagerly waiting for Percy Jackson and The Lightning Thief. And so have all the Harry Potter fans. With good reason!
This film belongs to the same 'magic' genre. Also it's been directed by the master storyteller Chris Columbus, the 'wizard' who gave us Harry Potter and the Sorcerer's Stone and Harry Potter and the Chamber of Secrets.
In the interim apart from the Potter series we've had The Chronicles of Narnia, The Spiderwick Chronicles and The Golden Compass. It really is a tall order to churn out something refreshingly different. But does the film engage you and keep you at the edge of your seat? Yes! And it is the director's mastery that he does not let his audience down.
Percy Jackson (Logan Lerman) is just an average all-American dyslexic kid struggling with his disabilities. But Percy has been blessed with magical powers due to his half-blood lineage (yes, a little too Harry Potterish) as he is Poseidon's son. Now Percy must locate the lightning bolt and prevent the gods from going to war or mankind is doomed.
The plot itself isn't terribly original or unique. The film alternates between Half-Blood camp (a training ground inhabited by demi-gods, centaurs, elves) and modern day America. And herein lies the ability of the film to carve a niche which is different from the Harry Potter series.
Because the film isn't located at an imaginary school (Hogwarts) or in a fantasy land titled Narnia. Percy and his demi-god friends, Annabeth and Satyr travel the length and breadth of America so that Jackson can rescue his mother and prevent the world from coming to an end.
On the surface Percy is just an ordinary teen-turned- superhero. But the film works on many levels. Like many teens Percy has never met his father. It's a source of great anguish to him. It is also the reason for Annabeth's aggression.
Annabeth misses her mother (Athena the Goddess of wisdom) who abandoned her. Alexandra Daddario delivers an effective performance despite not having a meaty role. And after a long time one got to see an actress who does not appear emaciated or anorexic. Annabeth is a demi-goddess but a tough and brawny one!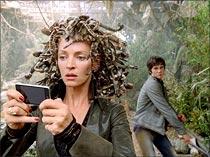 Las Vegas casinos aren't just simple gambling spots. Casino owners take utmost care to see that their patrons are beguiled into a stupor. And don't ever want to see their patrons move away from the casino.
Satyr (Brandon T Jackson) has always had this ability to evoke a laugh while maintaining a deadpan expression. He succeeds admirably and keeps the audience in splits which is no mean achievement.
Pierce Brosnan is confined to a wheelchair in some sequences. But he is a centaur (half-horse and half-man) through most of the film. It's a small but convincing role and his acting prowess is evident. I found myself looking forward to his brief appearances on screen. Logan Lerman isn't the tall, dark and handsome leading man but as the shy, winsome boy-next-door he oozes charm.
The film could have been shortened and some of the melodrama could have been done away with. The special effects are inconsistent and downright tacky at places. But despite its very obvious flaws Percy Jackson and The Lightning Thief makes for an entertaining watch.
Kids and teenagers shouldn't give this one a miss. Adults will enjoy it too provided they aren't expecting a Harry Potter or a Home Alone.
Rediff Rating: