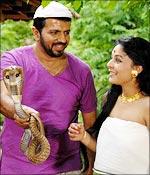 After a long time comes a Malayalam film that is truly bold in its theme and brilliant in its treatment. The film in question is National Award winning director Priyanandanan's latest offering Sufi Paranja Katha, an adaptation of the eponymous novel by K P Ramanuni.
The story is about Karythiyani (Sharbani Mukherji), an heiress of a feudal family. She is a bewitching beauty and supposedly has supernatural powers. She falls in love with a nomadic Muslim trader Maamootty (Prakash Bare) and elopes with him.
The film then goes on to show the aftermath of her actions. Basically, it is about how difficult it is to live in a society when one chooses to convert to another faith.
Karthi, a Hindu, converts to Islam and religiously follows the prescribed rituals. At the same time she convinces her husband to build a temple for the statue of a deity found in his courtyard. What's more, she even continues to serve the deity in a ritualistic manner. The upheavals that follow her actions are what makes up the rest of the movie.
An underlying fear of the narrative turning into a social rhetoric remains mostly unfounded as the director keeps it subtle without pointing fingers at anyone.
Here, Priyanandanan succeeds in keeping the story limited to individuals even though the society plays a very important part in forming their fate.
The casting of the main characters is nearly flawless; Sharbani Mukherji as Karthi/Suhara is ideal. She strikes a perfect balance between sultry and divine. Prakash Bare (who is also the producer of this film) as Maammootty is moulded well. Jagathy Sreekumar's portrayal as the Musliyar is a marked departure from his comic sidekick roles. He gives depth to the part. Thampi Antony as Sanku Menon is another character that captures our attention.
To sum up in the words of Jagathy: if we want to keep our faith, we have to sacrifice life; and if we wish to live, then we have to sacrifice faith. A bold attempt indeed!
Rediff Rating: