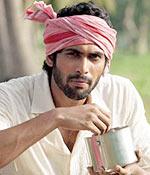 Rana Daggubati has made an impressive debut in Telugu with Leader. His portrayal of Dr Arjun Prasad in the film has won him loads of critical appreciation.
Rana has already signed his second film -- in Hindi -- Dum Maro Dum, with Abhishek Bachchan and Prateik Babbar, which will be directed by Rohan Sippy.
Like his role in the movie, the tall and handsome actor is also inclined towards social causes -- he recently took part in awareness programmes on leprosy and blindness.
Basking in the success of Leader, the actor spoke to Radhika Rajamani about Dum Maro Dum and more. Excerpts: 
Are you happy with the response the film is getting? Are there any special reactions from the public?
I am very happy with the response. It has given me a path to plan my future films. Though it was not a strictly commercial film, in terms of openings it resembled regular cinema. The collections were huge. Now, new cinema has a voice with Leader and what a beautiful way to start.
Two days after the movie released, I went to a few theatres to watch the film. The audience was very involved with the character I play in the movie. There was applause and moments of silence in between. I was fortunate in getting an audience like this one. A special moment for me was when some viewers said that they didn't see Rana, but Arjun Prasad. Some directors also told me that it takes guts to do a film like this. They said that though many speak of doing this type of film, not many could do it.
Has any politician seen the film?
Lots of MLAs and the Speaker of the Assembly have seen the movie. They could connect to it better than the audience. We did a lot of political detailing. They were happy it didn't strike a chord with a single politician/party. We haven't come into controversies and criticisms, which we were expecting after the release of the movie.
What do you think that made the film click?
The sincerity in the film. It's the story/writer/actor who held the scene together. All the sequences looked real. A police officer said I spoke well in the bomb blast scene. Different people connected to different aspects. It's undoubtedly the best first film I could have asked for as my debut.
How did you perceive the reviews? A few were pretty harsh.
I am a collection sheet guy rather than a review reading one. 
Were you worried about the box office performance of the film?
I was worried initially. It was a new genre so I didn't know if it will appeal to the A centres or not. But the opening day saw collections larger than many big films. Even on Monday, despite the cricket match, the morning show was full. The youth connected to the story, understood politics and wanted a leader like the one shown in the movie. Women saw it as a family drama between Suhasini and me.
Any steps to curb video piracy?
On the third day after the film released, there were VCDs of Leader, Kedi and Bindaas as well as my uncle's (Venkatesh) movie. It was sad and disturbing to see this. There's a loss of about Rs 70,000-80-000 crore because of piracy. People don't understand that piracy means theft -- it's like buying stolen goods. It's become a lucrative business for some. It's sad.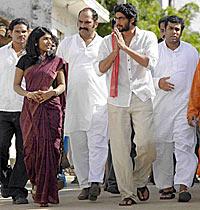 We spoke of change in Leader. That change should start here. People need to understand that piracy is wrong. They need to realise there's a time for everything; the home video and the telecast on TV.
You released some merchandise with the Leader logo. Are you thinking of doing any more promotions?
We spoke of some issues in the film like eradication of corruption and the caste system. I want to go to colleges and see what the youth is connected to.
Ultimately how was the whole experience of working in Leader?
It's been terrific. Working with great actors and Sekhar Kammula was superb. The movie has changed the perceptions of the people. In fact, those who raised their objections at first are now applauding it. It's been a beautiful year-long journey.
Your second film is a Hindi film Dum Maro Dum. How did you get the role and what made you sign it?
It will be my debut again (in Hindi). A Hindi movie was never on my mind. I was thinking of working in Tamil as I have grown up in Chennai and know the language well.
I met Rohan Sippy a long time ago. He saw the Leader promos and some photographs of mine which were floating around in Mumbai. Rohan called me and said there is this script with a lovely character. He told me that Abhishek and Prateik were already in it. He asked me if I could speak Hindi. I said I did. I am a Hyderabadi and somewhere the Hyderabadi Hindi comes through. So I am working on my Hindi diction.
Anyway, I went to Mumbai to meet him and writer Shridhar Raghavan. They liked me instantly and suggested a look test.
The film is about a Goan drug racket. My character is very different from the one in Leader. It is very challenging. I am looking forward to it.
It's said you are learning to play the guitar for the film?
I learnt it for about four to five weeks.
Have you met your other co-stars?
I met Prateik. I've known Abhishek for some time.
Are you listening to Telugu scripts? Would you want to do commercial cinema?
Yes, I'm getting a lot of them. Unknowingly the pressure is on me. I am now part of perfect cinema where the story speaks (Leader). This is my strength and people will judge me accordingly. I need to be careful. I want to do a character different from Leader with a different voice and body language. I don't mind doing grey shades or fully dark characters.