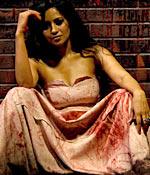 The most eagerly waited Tamil movie of recent times is finally out.
And trust Selvaraghavan to choose a subject that would make any filmmaker shiver in his shoes. And yet, this is the kind of epic that everyone dreams about making in their lifetime.
War. Love. Betrayal. Instincts. Ancient history, a forgotten kingdom, magical powers and a ruined city. Yes, the stuff of dreams. And kudos to the director for even thinking of attempting such a story.


But several things need to be understood before even attempting to make any sense of it all. First -- Dream Valley Corp's Aayirathil Oruvan (One Among a Thousand) might have implications of a single hero fighting all odds when in reality it spins its story around several -- all important -- to the story in some fashion. And with its basis in Tamil history, it only makes sense to add a disclaimer that none of the Chola/Pandiya history mentioned here has relevance to actual incidents. A good thought, as the screenplay does somersaults around you, when you least expect it.
The film starts off very intriguingly, cutting to AD 1279, when the successor of the last great Chola Emperor, pending invasion, sends his people -- what's left of them -- to survive the threat.
After that brief flash back, our story picks up to the present. Archaeologist Dr Lavanya (Andreah Jeremiah) has just lost her father (Prathap Pothan) in the ruined city that was, legend says, the place the exiled Chola Prince retreated to. An expedition is promptly arranged, with army support, headed by Anitha Pandiyan (Reema Sen, looking glamorous, per usual), her colleague Ravi (Azhagamprumal) in company of a smart-aleck coolie (Karthi, at whose sight the theatre erupts in cheers).
The destination? Ming-hu-a island, somewhere off Vietnam, which seemingly is where the Chola Prince disappeared, followed hotfoot by Pandiya soldiers. Our intrepid tea follows the route, foiling various traps along the way: snakes, quagmires, firestorms, deserts and even a McKenna's Gold inspired Stone-henge-like area through which they run for their lives.
The best part about these scenes is our coolie, who, caught in between intellectual doctors and firebrand army-types, manages to maintain a tether to the real world of present-day Tamil Nadu. He questions, rambles, bickers, makes lewd comments and unconsciously acts as a kind of bridge between the brains and the brawn. In the end, it's the trio of Lavanya, Anitha and brawns of the expedition (everyone just flicks their finger at him to call him) who finally do make it to the lost city where disaster awaits.
Enter magicians who can weave spells, a Viking-civilization-like-forgotten city that's full of people who still live 1000 years in the past; and dark and dank caves that barely seem able to support life, let alone culture. And yet, there's the last of the exiled Chola line (R Parthiban), weirdly and wonderfully dressed in attire that reminds you of Beowulf.
Here is also when the story leaves behind the expedition (which has been separated, anyway), and follows Anitha in earnest. Family audiences, be warned: this movie completely deserves it's A certificate and if you've seen daring before in Selvaraghavan's films, this one surpasses those limits.
Reema Sen is fiery, audacious, openly erotic and speaks old Tamil that makes your toes curl. It takes you a while to adjust to the overwhelming sexual overtones and just plain violence. You're left in a mythical world where Tamil sounds alien, kings still live by old codes and everywhere it's dark, musty and feels like the 13th Warrior, Viking settlement.
And its here that the story begins to falter slightly; groups of raggedy children and women encompass the scene and you can see the director trying hard to move on which he does. Swordfights, floodplains, mysterious prophecies abound -- and our coolie is back on track. The ending, though, is bound to surprise some, though it's very fitting.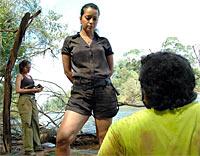 Technically, the movie is a visual treat: the production teams' gone overboard creating sets, jewellery, costumes; while the dialogues are great at re-creating the Cholas of 1000 years ago.
Reema Sen's back-story seems weak but who cares when she takes the fiery avatar and brandishes her assets so completely. In a way, though, she's a revelation, and is the reason the second half has some impact.
Karthi is his usual insouciant self and is simply a joy to watch no matter his lewd jokes. The guy acts with every pore of his body; it's a miracle to finally see someone use their eyes and face to actually express something. The dialogues and screenplay, tailored to ensure human interaction take a good deal of credit for this. CGI aside (which isn't much as you'd think), it's the characters that take precedence.
As for Andreah -- barring a few moments -- the girl actually has precious little to do considering she's an archaeologist and should therefore shoulder much of the burden of a historical expedition.
G V Prakash's music sets the tone for the period pieces; otherwise, the BGM is adequate. Ramji's cinematography is brilliant but the movie could use some editing.
Credit goes to Selvaraghavan for having the guts to actually take a theme like this and to deliver it with some panache. So you can forgive the occasional hurdles, the Narnia/Lord of the Rings/Gladiator inspirations, briefly.
Steel your stomach before you watch it, though. Regardless of the minor discrepancies, AO is definitely a movie to watch.
Rediff Rating: