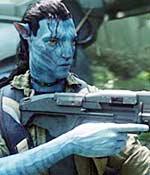 James Cameron's Avatar is all set to beat Titanic at the box office.
The 20th Century Fox sci-fi spectacle is number one in the US for the sixth weekend in a row with 36 million dollars.
The film lifted its domestic total to 552.8 million dollars, according to studio estimates.
Avatar raised its worldwide total to 1.841 billion -- that is just 2 million dollars shy of first place behind Cameron's last movie, the 1997 shipwreck epic Titanic, at 1.843 billion dollars.
'It defies all superlatives,' the Daily Express quoted Chris Aronson, head of distribution for Fox, as saying.
The studio said Avatar has hit 1.29 billion dollars in international ticket sales, passing the 1.24 billion dollar mark set by Titanic.
Avatar surpassed The Dark Knight on Saturday to become the second highest grossing film in the US.
'We're witnessing box office history. We're watching all of these big records fall, and there doesn't seem to be an end in sight. Avatar is dominating at a time where it has no big summer blockbusters to compete with it. It's perfectly poised to keep breaking all these records,' said Paul Dergarabedian, box office analyst for Hollywood.com.