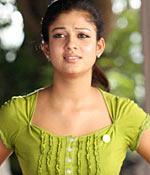 There are films that are made only with the intent of achieving commercial success, and there are filmmakers who have mastered the trick of attaining this goal. Director Siddique is a frontrunner in this category.
His stories are laced with humour in the first half which then take a serious turn in the second half. The plot may be wafer thin with formulaic twists and turns but, his success rate is awesome
His latest Malayalam film Bodyguard, with Dileep in the title role (his first under the baton of Siddique), however is an exception. But more on that later. This film also stars Nayanthara, her comeback of sorts.
Dileep believes that humour works well -- even if he is the butt of the joke in the movies. Bodyguard is no different. It is established right in the beginning itself that Jayakrishnan's (his character's name in the movie) is a little weird. In childhood itself, he has developed a notion that only the brave and the powerful are respected in this world. So, he first starts emulating the police, and then switches over his loyalties to anti-social elements. He drops out of college and starts learning how to be a goonda by being a bodyguard of one of them. Then he realises that his boss is not the ultimate boss, and that he too is scared of someone above him. So, he goes to Asokan (Thyagarajan), the ultimate boss (who has retired to do respectable business as a NRI) with a recommendation letter from his school teacher, who is a friend of Asokan. 
Jayakrishnan then becomes the saviour of Asokan's family and is put in charge of protecting the life of Asokan's daughter Ammu (Nayanthara), who is adamant on attending her final year in college with her friend Sethulakshmi (Mithra Kurian).
The action then switches to the campus. Jayakishnan joins the college as a student to be with Ammu all the time. There he becomes more of a comic character with his bodyguard attire of safari suit and sunglasses. The plot meanders along this line for a long time where Ammu tries every trick in the book to get rid of her bodyguard before hitting upon a novel idea of making him fall in love with someone. Alas she finds no one who would be interested in this buffoon of a person. So, she herself has to take on this task. Soon, a kind of romance starts to blossom.
After a promising premise, it seems that the director got lost. There is nothing new. Even the romance between the lead pair seems to be added as an afterthought.
Dileep too seems to be lost after the initial burst of energy. His characterisation is half baked and though he tries hard, we're just not interested. Nayanthara's famed comeback to Malayalam films is lacklustre. Agreed, she looks chic but the supposed meaty part she had conjured up is not happening. The script leaves no scope for any of the other actors to get noticed.
In the final analysis, Bodyguard may not be able to guard Siddique's reputation as the man with the Midas touch.
Rediff Rating: