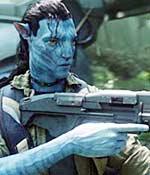 James Cameron's 3D sci-fi film Avatar has toppled his 1997 box-office blockbuster Titanic after grossing nearly 2 billion dollars in ticket sales worldwide.
The epic movie, set in the year 2154, raked in a staggering 1.841 billion, becoming the best-selling international release of all time.
Titanic, that bagged 11 Oscars, earned 1.843 billion at the box office between 1997 and 1998, reports the Daily Express.
It was pipped after Avatar recently pocketed another 22.5 million pounds at theatres worldwide.