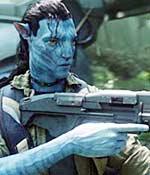 James Cameron's 3D sci-fi film Avatar has toppled his 1997 box-office blockbuster Titanic [ Images ] after grossing nearly 2 billion dollars in ticket sales worldwide.
The epic movie, set in the year 2154, raked in a staggering 1.841 billion, becoming the best-selling international release of all time.
Titanic, that bagged 11 Oscars [ Images ], earned 1.843 billion at the box office between 1997 and 1998, reports the Daily Express.
It was pipped after Avatar recently pocketed another 22.5 million pounds at theatres worldwide.