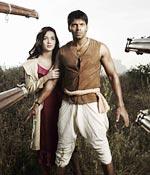 The first thing that strikes you as you watch the first images of AGS Entertainment's Madharasapattinam unfold is that it is a beautiful concept, and one that has been brought to life almost perfectly. A L Vijay's latest work is a love-story set in Madras, as it was in 1947.
The real essence of the movie is the romance. Unfortunately, however, Madharasapattinam is a case of the main product not quite making an impact, while the by-products rule completely.
Full marks go to art director V Selva Kumar and the SFX team; their painstaking work is visible in every frame of the movie. Whether it is the impressive title card that roves over the Madras Presidency map, the compare-and-contrast scenes that show you various aspects of Old Madras and new, Washermanpet that existed more than 60 years ago; trams, buses, name boards, signs, even currency; they are all brought to life in a way that successfully pulls you into the story.
The tale is simplicity itself: An old woman in London, afflicted with a blood clot in her brain, is on the verge of an operation, but decides that she needs to go to Madras at once. She does set off too, over-riding her family's protests, with her granddaughter for company. The past and the present collide as she makes the trip across countries (striking dumb customs officers with her knowledge of Tamil) and she remembers a young man, simply clad, and a quaint thaali in her hands, a token of his love.
Cut to the past in true Titanic fashion: Amy Wilkinson (Amy Jackson, Miss Teen World 2008), the daughter of the governor of Madras Presidency, has newly arrived in Madras from Great Britain in June 1947 (exactly why she arrives during the last legs of the British rule, a time of general political turmoil and haste, is not quite explained). Old Madras and new flash before our eyes as old and young Amy alternatively enter the hallowed precincts of Madras: one in a wheelchair, trundled by unscrupulous travel agents; the other draped in silks and escorted carefully by her father's men, a blushing English rose. (The scene where old Amy passes through Spencer's Plaza and it reverts to the original Spencer & Co, is marvellous.)
As Amy's memory journeys more and more into the past, she remembers the scenes with more clarity: there's the comical translator Nambi (V M C Haneefa), Robert Ellis (Alex O'Neill) who is smitten with her the moment he sees her, her own step-mother who detests her and Parithi (Arya), a strapping young man she meets on the road, who stops her car just to save his donkey.
Turns out he lives in Washermanpet and is a wrestler training under Ayya Kannu (Nasser). He is a quiet young man who mostly minds his own business. But Fate uses two events to turn his life upside down: Amy Wilkinson, once she caught sight of him, decides not to let go; her father decides to build the Bruntsfield golf course right on the site of Washermanpet, leading to more mayhem.
Exactly why the governor would construct a golf course this close to Indian independence, or how Amy would be allowed to fraternize so causally with the 'natives,' as her father derisively calls Indians, is never explained, but Amy's friendship with the taciturn Parithi grows. To give Amy her due, Parithi seems to be exactly the kind of person an 18-year-old, fresh out of the school-room, would fall for: passionate about his people and work, well-built, with an aura of impenetrability that fascinates her. Turns out he's fascinated with her as well: it's just that his impassive face never reveals it.
The duo meet often: she watches his wrestling matches and tries to painstakingly learn Tamil; he is deeply grateful to her for having saved him from a sound thrashing from Ellis, and learns a few halting English words. But, before anyone can do anything about it, Amy is engaged, post-haste, to the lecherous Robert Ellis. At which point, she discovers she's irrevocably in love with Parithi himself.
The first half of the film is a joy to watch: Old Madras, with its sweeping, near-empty Mount Road is fascinating. Equally intriguing are the shops, the slow trams with their bells, Lux Soap posters, ancient issues of Ananda Vikatan, Central Station, et al. The panoramic views from Amy's window are beautiful as well, not to mention clean and pure Buckingham Canal, which was a source of water-supply (!) in those days.
The disappointment ensues with the romance itself, and the way it has been structured: so much of it is a blatant rip-off from Cameron's Titanic that you lose any interest in the lead pair post-intermission. Everything is there: Rose's first view of Titanic, contrasted with her memories, entering her quarters, the way her young eyes merge with the old, and even the way she sings a bleary song as she's floating on a piece of wood in the ocean; everything has been faithfully replicated with Amy, making it look like Titanic on land.
What does save the film, to a good extent, are the great array of secondary characters and the subtle humour which director Vijay has been blessed with. The schoolmaster who patiently teaches them English the Tamil way, the little guy who runs around the village every time a plane flies past, shrieking, 'The bombs are coming,' the English-uniform wearing man who sleeps permanently… these are characters that bring Madras alive.
Amy Jackson is almost perfect as the wide-eyed young girl who is seeing India for the first time, fascinated by its culture. The same can't be said of Arya, who looks stone-faced no matter what the situation is. Some expression would have definitely helped, especially when he looks at Amy with what seems to be love. You never quite find out.
Some of the fault undoubtedly lies with the script, which doesn't give him much to work with. He is quite impressive as a wrestler, though, even if he, in typical Tamil hero fashion, escapes everything from gunshots to bombs without even a bruise.
The British cast is good in the beginning, but rapidly descends to shrieking later on, shooting and fighting with heedless abandon. V M C Haneefa is a sheer joy to watch; his antics and expressions are a delight, and the actor will be sorely missed.
Nirav Shah's cinematography works very well at some points; loses focus in others, as does Antony's editing. Both might be attributed to the abundance of CGI in the movie, which makes the technical work looks jerky.
G V Prakash's music touches your heart during the Meghame number (picturised a la Lagaan), and the delightfully melodious Pookkal Pookum (which has been shot rather unimaginatively). The background score is just adequate.
Madharasapattinam serves up an almost flawless exhibition of the city as it was, in 1947 with its painstaking attention to detail. For all the irritants, though, this Titanic of Madras is still worth a watch.
Rediff Rating: