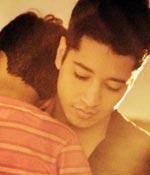 Anurag Kashyap can be credited for introducing terrific talent to the Hindi film industry. We would not have known actors like Kay Kay Menon (who starred in Kashyap's yet-unreleased Paanch), Mahi Gill and Kalki Koechlin (Dev D) and Abhimanyu Singh (Gulaal) if it weren't for this director.
This Friday, Kashyap introduces yet another fresh face, 21-year-old Rajat Barmecha.
The Delhi boy will be seen in Kashyap's production, Udaan, a film that was officially selected to compete in the Un Certain Regard category at the Cannes Film Festival. Directed by first-timer Vikramaditya Motwane, the film targets the Facebook generation.
Rajat tells Patcy N more:
Tell us about yourself.
I came to Mumbai three years ago, to learn diamond jewellery designing. But 15 days into it, I got bored. Since it was my childhood dream to become an actor, I started giving auditions without telling my folks at home.
Within months, I bought my first mobile phone. So I told my father and he did not get angry with me.
After that, I got many advertisements. Within two years, I had done about 30 ads like Coca Cola, Sonata watches, Frooti and Max New York Life Insurance.
My brother and sister also started featuring in ads after me.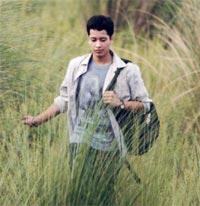 How did you land Udaan?
I got a call from a casting agency, and auditioned for the film. I got selected from among 250 boys. Within two months of that, the film went on the floors.
As soon I was selected, I was asked to come by Anurag's office almost every day to get familiar with the crew members.
What is Udaan about?
Udaan is about 17-year old Rohan, and his relationship with his father and younger stepbrother.
Before starting on the film, I was asked to take diction classes. I had to rehearse all the scenes and dialogues. Vikram gave me few books to read and DVDs to watch to help me prepare for the role.
Was Anurag present on the sets?
No. I met him in Mumbai before we shot the film in Jamshedpur and Shimla.
I love Anurag's work. I loved Gulaal, Dev D and Black Friday.
He is very humble and down-to-earth. That's what I loved about him. He does not have an attitude.
Did Anurag give you any acting tips?
After the shoot, he told me that he had seen the rushes and that the film had shaped up nicely.
Anurag guided me a lot. He told me not to get carried away with fame. He helps me in taking career decisions.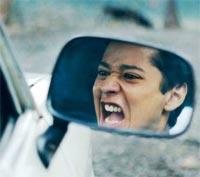 How was it working with Vikramaditya?
I have known Vikram for a year now, and we share a good relationship. We meet often. His mother, Deepa aunty, is the executive producer of the film, and wife Ishita was the still photographer.
I can ask Vikram anything. He would be very patient with me. He also encouraged suggestions from me.
What was the most difficult scene for you?
There was a scene when I had to cry while talking to my friend on the phone. I had to start with slow sobs and then burst out crying. That was tough but I managed with glycerine.
The shoot was tough. I was required to shoot everyday and be on the sets all the time. Sometimes we shot for 20 hours and I would not get a break.
There is a scene in a factory, in front of a furnace. I felt burnt that time because of the heat. A chase sequence was tough too because I had to run a lot.
The promos of the film are out. Has your life changed?
Sometimes people recognise me on the road. People want to talk to me on Facebook. It's nice; I am enjoying it.
Did you get any more acting offers?
Yes but I haven't taken them up. I want to see the response of Udaan first.
Are you nervous about the release this Friday?
More than nervous, I am excited. I want to know how the audience will react to my first film.