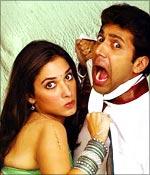 Remakes have always been lucky for the Jeyam brothers, Raja and Ravi.
Both have tasted success, as a director and actor respectively, bringing Telugu films to Tamil. The latest is Thillalangadi, a remake of the Telugu hit Kick, a romantic action film originally starring Ravi Teja, Ileana and Shaam in pivotal roles.
The Tamil cast includes Jeyam Ravi and Tamannaah, while Shaam reprises his role as a cop. Yuvan Shankar Raja scores the music; Thaman contributes a couple of songs, while Viveka and Na Muthukumar share the honours for the lyrics.
Here's what the album has to offer:
A perky flute's notes assault you, along with crashing beats, as Dinga Dinga begins, thundering right from the first second. It takes some time for you to understand exactly what Vijay Prakash and Naveen are singing. Nowhere near Yuvan's usual level of zeal, but the children's chorus is mildly peppy, and eventually, the number's enthusiasm does get to you.
It is certainly different to listen to Chitra's voice warbling to you, as Yuvan and Shreya Goshal pitch in to accompany her on Sol Pechu. The background instrumental arrangement is pretty strong. After the fairly interesting first few moments, the charanam seems strained. You are surprised to see the inclusion of Jeyam in the lyrics, signs of the Star syndrome but the overall effect seems rather dull, except for the final moments, where you can hear a flash of inspiration.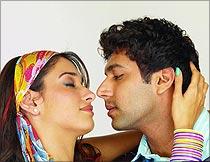 Loud thunder reverberates through Thaman's Pootta Pathathum, as Suchithra takes up the vocals through this fast-paced, action-oriented number. The best part of this otherwise humdrum number is the splendid rhythm.
The singer who set Telugu hearts afire with his splendid rendition of Arundhathi's theme song, Jejamma, starts off Memory Loss in style, as Kailash Kher simulates a stutter through the first line, his typically North Indian twang giving a different flavour to the vocals. The classical touch actually does work a bit, until the tune wanders into familiar territory. Ranjith takes over the song at some point, but this song's asset is certainly its lyrics: amusing, light-hearted and sometimes taking pot-shots right on target, a welcome relief. The number might not break new ground, but Kailash Kher's rendition and the lyrics make up for it.
Pattu Pattu begins with synthesized music and, despite its club music feel, actually falls back on a tried and tested Yuvan template. Simbhu and Manasi Scott share credit for the vocals. After the Punjabi flavour, the sudden tendrils of vaguely Chinese music take you by surprise.
You blink at the sudden shift in genre, as Idhayam Karaikirathe reminds you of yesteryear classics such as Kaatrinile Varum Geetham and the more recent Mayil Pola, from Ilaiyaraja. The song, sung by Sri Vardhini, set to a gentle rhythm, is a very welcome deviation from the previous numbers. It is a Thaman composition, worthy of praise.
Shankar Mahadevan energetically begins Thothu Ponen, a mixture of filmi and rural music. There's a certain fluidity to it that betokens long usage of the genre and background instrumental arrangement, but it still brings you a feeling of deja vu.
Thillalangadi goes through its fair share of ups and downs and differing musical treatment, due to the fact that it features work by two composers. This adds variety to the collection, but it doesn't make it automatically appealing music. By and large, barring a one or two numbers, this is pretty run-of-the-mill.
Rediff Rating: