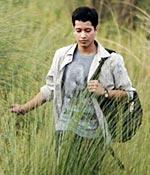 Parents have a God-like stature in Indian society. And since movies mirror the sugar-coated facet of reality, we barely ever witness the dark side of parenting.
Even in movies like Taare Zameen Par, 3 Idiots or Kabhi Haan Kabhi Naa, where nonconforming children fail to make any connect with their rigid fathers, things end on an assuredly resolved, happy note.
In that sense (and more), director Vikramaditya Motwane's Udaan is refreshingly distinct and unyielding. In his superbly penned, alongside co-writer Anurag Kashyap, account of a teenage boy, he makes some relevant points while drawing a poignant picture of wounded relationships giving rise to unlikely family in the face of abuse and neglect.
Rohan (Rajat Barmecha) is a special 17-year old. Though kicked out from a prestigious boarding school in Shimla, there's something instantly arresting about his serene disposition and soulful, searching eyes. He's not a man yet but his poems are observant, mature and laced with enticing simplicity. There's enough subtext to figure out that this wisdom steps from the fact that he lost his mother at a young age and his hardboiled father is too aloof to take notice.  
Whether it's his escape or his identity, writing brings out the best in Rohan's otherwise clammed-up world. A detail often elucidated through fascinating, freewheeling verse. And so that's precisely what he wants to pursue: a career in writing. This does not go down well with his stern, old-school father (played to perfection by Ronit Roy) who wants him to do what 63 percent Indian parents aspire -- join an engineering college.  
A wonderful scene in a local pub featuring Rohan and his aimless cronies has one of the guys articulate this sentiment with a pungent but pertinent remark, 'Sab chote shaher ka baap ek jaisa hota hai. Family business? Very good, very good. Dream business? Very bad, very bad.'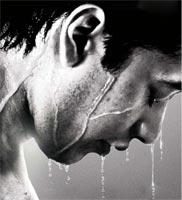 After his afore-mentioned expulsion from boarding, Rohan comes to live with his obstinate father in the steel town of Jamshedpur only to find himself clubbed with a surprise roommate -- his six-year-old step brother, Arjun (Aayan Boradia). Terribly ignored and lonely, Arjun is punished for his naïve existence and doesn't even know it. Boradia doesn't have too many lines but his wide-eyed bewilderment and polite tone is responsible for some of the most heartfelt scenes in Udaan.
A far cry from his rule-breaking days in hostel, he's rudely informed to address his rather mean, hypocritical dad -- he smokes and drinks in front of his kids and then insists on early-morning fitness regime -- as 'Sir'. It's an evidently strained father-son scenario as Rohan angrily points out, 'Beta hoon. Bank ka fixed deposit nahi.'
Udaan has a simple enough plot but it's the finer nuances of its screenplay that lend it memorable profundity. It's undoubtedly a significant film about the youth, so often disparaged for the eager, restless quest of their grand dreams and wild imagination. There are innumerable examples of one frustrated generation juxtaposing its ideas, or rather its predecessor, on the generation to follow, and the vicious cycle continues until a rebel is born.
Motwane's Udaan conveys this rebellion with such refined sensibility and spirit, it's only fair one recommends a tax-free status so that it brings about a greater understanding among many well-meaning but clueless parents struggling to reach out to their angst-ridden teenage offspring.      
As cinema alone, this is a sparkling and confident debut from Motwane. Displaying his merits as a master narrator with regard for emotional subtlety and character detailing, the first-time director shoots crucial scenes without ever losing sight of the story or its intended goal. Crudely put, he doesn't bullshit with his audience. It's this approach that keeps us in constant touch with Rohan even as the camera (by Mahendra Shetty) wistfully lingers around his lost frame and Amit Trivedi's thematic piano plays in reference.
 To Barmecha's credit he's entirely believable and persuasive as a boy unwilling to let go of his aspirations and unable to come to terms with his father's subjugation. Despite his rawness, he carries the viewer all through this self-exploring albeit fruitful journey of dreaming big, facing challenges and encountering the raw deals in store.
Being young can be quite rewarding if you are willing to take charge, be responsible. Udaan is an enriching experience in highlighting the same.
Rediff Rating: