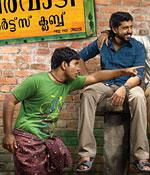 Vineeth Sreenivasan, son of writer-director Sreenivasan, got a break in the movies first as a singer, and then as an actor without much struggle.
The young star has now graduated to being a writer and director with his first film Malarvadi Arts Club (Malayalam). Vineeth has even written the lyrics for this film and is one of the primary singers here.
Malarvadi Arts Club is a simple tale of five wayward friends, who are yet to discover their true calling. Based on the rural settings of northern Kerala, where political violence is a daily reality, they act as paid rioters for a political group and also do odd jobs, until they realise their collective destiny.
The youngsters' operate from an eponymous den that an elderly teashop owner has lent them to hone their musical talent. Needless to say the place is in now shambles and used only for drinking sessions.
When a musical reality show calls aspirants for auditions, the group's lead singer is pushed by the others to audition for one. Predictably, he makes it big, which is followed by misunderstandings, separation and a grand reunion in the end.
The dialogues make a comment on the prevailing political reality of the state and the hypocritical attitude of the people. There is also some sermonising to the elders of the community.
Kudos to the actors in the movie especially the younger ones, who have performed especially well. Navin Pauly, who plays the gang leader Prakash, deserves a special mention. Kuttu (Aju Varghese), who is the jester in the group, has his charming moments.
Clearly these young men hold their own despite the presence of veterans such as Nedumudi Venu, Jagathy Sreekumar, Salim Kumar and Senior Sreenivasan (in an endearing cameo).
Malarvadi Arts Club shows that Vineeth Sreenivasan does hold promise as a director, who can only improve with experience. He has made a film that will make the viewer smile.
Rediff Rating: