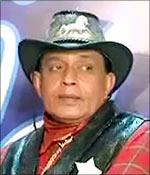 After weeks of expected eliminations, the surprises are back in
Indian Idol
.
One of the strongest contenders of the show, Shivam Pathak, was shown the door by the audience. Pathak took it in gracefully, and bowed out.
Was the audience punishing him for missing a beat and faltering on the tempo last week? Perhaps. Was it justified? Perhaps. But it was too big a punishment for too small a mistake. Shivam was a versatile singer, with a unique voice.
Nonetheless, the talent hunt show continued to exude excitement and entertainment for its viewers. The disco dancer of the film industry Mithun Chakraborty graced the show in a gun master get up on Monday.
And with Mithunda on the floor, the theme was obviously disco. All the contestants sang popular numbers from the 1980s.
Sreeram kickstarted the round start with his rendition of Aapne To Jaise Taise from Lawaaris. The Kalyanji-Anandji tune was delivered by Sreeram almost flawlessly. He is a natural singer but he does tend to go off key sometimes. The judges were all praise for him.
Sunidhi Chaudan -- dressed in a skimpy attire was so pleased with him that she joined Sreeram on stage for the remixed version that Mika had sung in Housefull.
Rakesh Maini was next. He sang another popular Kishore Kumar number, Paisa yeh paisa, from Karz. The song -- despite having a relatively easy tune -- is very difficult to sing simply because of the lung power needed to deliver it. Mani did a good job.
Anu Malik observed that he was quite close to the Idol title. Bhoomi, the only girl left in the contestant, sang a song that was
right up her alley -- Hari om hari. Bhoomi is pretty and charming, and seems to have everything that makes a good performer. Mithun complimented her by saying that Bhoomi's version reminded him of Usha Uthup's original rendition.
Shivam sang Yaad Aa Raha Hain, a Bappi Lahiri  number that took Mithun back to his 'disco dancer' days, and he gave Shivam a joy ride in his Mercedes Benz! It was a great moment for the young singer.
Interestingly, no one sang a Vijay Benedict song in Indian Idol. The singer, who was Mithun's voice in all Bappi Lahiri songs, had belted out a number of superhits in the 1980s like I am a Disco Dancer, Kasam Paida Karne Waale Ki and Super Dancer.
The show ended with Swaroop's folk disco version of Saara zamana from Yarana. He did a good job, and was voted the Performer of the Week.
Mithun said that this was the first time he heard folk disco. The show ended on a fun note, as Mithunda took to the floor, and
showed off some great dance moves.