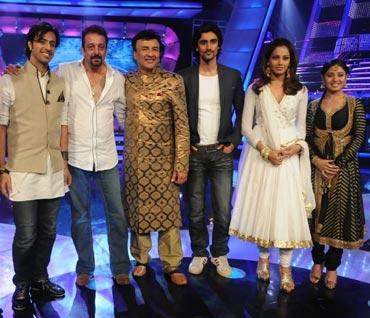 Missed out on the latest Indian Idol episode? Here's a recap.
The shocks at Indian Idol continue.
After Yashraj and Arpita's exit, it's talented singer Sashi Suman's turn to leave the show. The eviction was so unexpected that even the judges -- Anu Malik, Sunidhi Chauhan and Salim Merchant -- could not control their emotions.
Needless to say, Shashi was also completely shattered. One wonders what can be the criteria that the audience looks for while deciding to vote. Or has it become a vote rigging game?

In line with the co-branding initiatives being seen on most talent hunt shows, this week's contestants participated in the presence of the lead pair of I Hate Love Storys. Both Sonam Kapoor and Imran Khan seemed to be thoroughly enjoying the contest and their popularity amongst the contestants. 
The gala episode on Tuesday also saw the leading stars of the forthcoming film Lamha -- Munnabhai Sanjay Dutt, sultry Bipasha Basu and suave Kunal Kapoor present to cheer for the participants.
The theme this time was Qawali and all the singers rendered songs based on the genre. They also dressed according to the theme. Interestingly Sanjay Dutt picked on Sreeram and asked him to get a stylish hair cut. Since star hairstylist Aalim was also present there, he gave Sreeram a makeover and we could see a smart singer with neatly cropped hair.

The episode started with Naushad Ali Kawa singing Aaya Tere Dar Par from Veer Zaara. The song was tailor made for his style and needless to say he was fantastic. Salim Merchant perhaps described it best when he said, "You always sang with honesty and today that reflected in your performance." Sunidhi and Anu Malik also liked his performance.

Shivam Pathak was next in line. He sang the evergreen Parda Hain Parda and managed to impress the judges. This song has a peppy quality that makes it sound fresh every time you hear it. Bipasha went one step further and commented that Shivam has the much needed X factor!

The pretty rapper from Gujarat, Bhoomi sang Shobha Mudgal's powerful song Ali more angna but did not do it well. Though her on stage charm was intact, her strong voice couldn't hit the high notes. She was let off with a warning from the judges.

But it was professional singer Sreeram who stole the show. He sang one of the best compositions of A R Rahman -- Khwaja mere khwaja -- and did complete justice to it. Moved to tears, Sanjay Dutt then proceeded to give Sreeram a jadu ki jhappi. Kunal Kapoor also gave him a standing ovation. The judges' comments were equally flattering. Anu Malik went on to announce that the Indian film industry had found a new versatile singer. 

After Sreeram's great performance, it was Rakesh Maini's turn. He became very emotional because his parents were among the audience. As a result he forgot the lyrics of his song Hain agar dushman. Sunidhi rightly pointed out that the stakes were too high for Rakesh to make such mistakes. Salim also supported her by saying that when the audience is supporting him, he should work harder. 

For a change, Tia Kar managed to get some nice comments from the judges. She sang Salam-e-ishq quite well and the judges had no reason to complain. But she still lacks confidence which Salim pointed out.
Folk singer Swaroop Khan sang Alla Ho Alla is his trademark style but failed to impress the judges. Is he getting a tad too boring and monotonous?
  
Next week there is going to be a twist in the gala episode and Monday will see one more gala round and the final result episode will take place on Tuesday! This week's and next Monday's performance will be counted as the viewers can vote till Monday. 

The performer of the week, expectedly, was Sreeram. Let's hope there are no more unpleasant surprises next week!
Image: (from left) Salim Merchant, Sanjay Dutt, Anu Malik, Kunal Kapoor, Bipasha Basu and Sunidhi Chauhan.