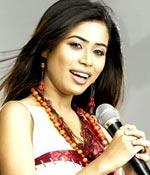 When you are singing solo, it is easy to mask a mistake you have committed on stage. You can skip a beat and return to the rhythm, you can increase the tempo to get back the rhythm or sing an extra taan to get back to the mukhda at the right time.
In other words, if you are not suffering from stage fright you can do a lot of things to make up. However, if you are singing as a team -- a chorus and that too a fast paced number -- it can be difficult if not impossible to mask a mistake. Simply because the tuning between three or four singers may not be so perfect to make up for that nano second's gap by spacing out a word.
And that is exactly what happened in both the team performances on Monday. The all girl team comprising of Tia, Arpita and Manisha sang with a lot of zest, but they were off key in places and just could not make up for the lost time or space.
One feels they lost a really good opportunity to sing Badal pe paon hai from Chak De!India. Considering Arpita's powerful voice, she should have done better, but somehow in their bid to distribute the song (and credits) equally, the effect was lost. Though judge Salim Merchant praised their teamwork, everyone knew that there was loads of scope for improvement. The same was true for the boys as well.
Meanwhile, Manisha Karmakar from Kolkata bowing out of the contest was expected judging from her abysmal performance in the last couple of episodes. You cannot afford to forget lines or sing out of tune when you're in the top 13.
For some strange reason, host Hussain Kuwajerwala was missing from Indian Idol this week. The elimination round on Monday saw judge Sunidhi Chauhan joining Abhijeet Sawant as the co-host. And on Tuesday Abhijeet was all alone. Is their a problem with Hussain? Your guess is as good as mine!
This week's Indian Idol had a folk-based theme and started with Shashi Suman singing Jind posh maar from Mission Kashmir. The peppy, fast-paced folk number would have sounded really nice had Shashi not lost his voice midway. The tempo, the complicated lines coming one after the other and the range makes it a very difficult number to sing. But Shashi attempted that and though his voice cracked, he continued singing and the judges were all praise for him.
The folk round, however, seemed to belong to Arpita Khan whose raspy voice was perfect for such numbers. She chose the number Patli kamar to showcase her talent. The song had almost everyone tapping their feet.
Surprisingly, Naushad Ali, the other participant with a very strong voice, didn't do so well. He sang De Taali from the film of the same name, but surprisingly was off key. All the judges were disappointed and asked him to concentrate on his sur.
But when it comes to consistency, there is no one to match Sreeramchandra from Secunderabad. His rendition of Kawa kawa from Monsoon Wedding was good. The judges liked it and so did the audience. Being an experienced playback singer does have its advantages and Sreeram knows this.
The same can be said for Tia Kar as well. Though the former airhostess does not have a very strong voice, she sang Meri Madhushala quite well. Salim gave her kudos for her hard work.
Bhumi Trivedi from Baroda gave a clever performance. She knew Rangeelo mado dholna was made for her voice and style and did complete justice to the song. The girl looked attractive and carried off the entire performance with a lot of panache! This is one contestant to watch out for.
However, Yash Raj Kapil left us disappointed. He selected the all time favourite Hoga tumse pyara kaun. The song set to tune by legendary R D Burman and sung by Shailendra Singh is simple and relatively easy to sing. But Kapil couldn't do justice to it.
As for the remaining three -- Swaroop Khan (he sung Nombooda from Hum Dil De Chuke Sanam), Rakesh Maini (Chapa chapa from Maachis) and Shivam Pathak (Khaike paan Banaras from Don) -- they were outstanding.
Swaroop had to prove a point or two after his bad performance last time and he let his singing speak for itself. Of course, it helped that the song was right up his alley.
Rakesh Mani is proving to be the new Mr Consistent.
However, the best performance of the day came from young Shivam. Though one is not sure whether Kaike paan Banaras can qualify as a folk number or not, his rendition was excellent. It had energy, was in tune and never missed a rhythm. The judges were thrilled and little wonder that they voted him the singer of the day!