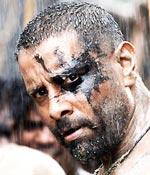 Pavithra Srinivasan reviews the Tamil version of Raavan.
The thought that keeps occurring to you as you watch Madras Talkies' Raavanan by ace director Mani Ratnam, is that it certainly looks very beautiful.
The forests are lush; the greenery is breath-taking; the mountains take you to a virgin world where nature is at her bold, wild and untamed best. You're lost in a brilliantly colourful landscape of mists, waterfalls and wet boulders.
But whether the movie satisfies the enormous hype it's generated story-wise, is something else, altogether. 
The scene: The forested areas in the vicinity of Ambasamudram, or Megamalai, as it's so eloquently expressed in the local papers. Areas that are inaccessible to outsiders; only the local residents know the place; even then, its treacherous.
The players
Raavanan: Veera aka Veerayyan (Vikram), the man who rules practically every frame, as it were. In the beginning, he comes across as rather schizophrenic. His weird gestures, staccato dialogue delivery and sudden mood shifts are a bit difficult to understand, and it takes you a good deal of time to assimilate his character. But he's easily the backbone of the film; the reason the story even moves, falteringly from scene to scene.
Intensely loyal to his people, his background is supposed to be a gory one. For he's committed crimes too horrible to contemplate. What we're shown, though, is only a part of them, his retribution for his sister's death. What he did before that is anyone's guess, and it's not nearly so frightening as you're led to believe.
Rama: Dev Prakash (Prithviraj), the dashing, handsome archetypal hero who's destined to destroy evil. He's an encounter specialist with 28 successes to his credit. Again, no details are forthcoming. He's the divine incarnation and that's pretty much it.
He wears shades, swings a gun with elan and enlists as many of the forest aides as he can in his search for his captured wife. He's supposed to love her, and his motive in reaching Veera is avenging his wife's capture but what you see doesn't seem to correspond to love.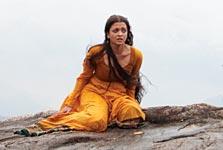 Seetha: Ragini (Aishwarya Rai-Bachchan), a dazzlingly lovely porcelain doll who wears surprisingly low-cut salwar kameezes that show more of her than ideal, is a cop's wife.
There's a hurried song, Kalvare, that shows her love for her husband and she does exhibit her loyalty to him throughout the film but it's does secondhand, in the way she resists Veera's attempts to subdue her.
Her dialogues are corny, artificially arrogant; one of her first lines is to taunt Veera with a recital that's so jarring you can barely believe it.
In name, she defies him, jumping off waterfalls and fasting, but though she looks quite the angel in distress, she's a little too self-possessed to make an impact. You somehow get the feeling that nothing horrible is going to happen to her, and you're right.
Her change of heart is predictable. At no point does she arouse your sympathy and after a point, her stricken face becomes tedious to watch. She speaks Tamil, but she may as well have spoken Hindi despite Rohini's excellent dubbing. Her dialogue delivery is cringe-worthy.
Hanuman: Gnana Prakasam (Karthik) is one of the few genuinely likeable characters in the film. He drinks, jumps around, chatters incessantly, and though obviously belongs to Dev's "side," is absolutely fearless when it comes to meeting Veera on his own home-ground. He's in character, sympathetic as the situation demands it, and comes across as realistic, despite the caricature-like portrayal.
Kumbakarnan: Singarasu (Prabhu) is Veera's brother, who stands by him through thick and thin. Though he has little screen-space, he portrays the gruff toughie with a heart of gold so well that it warms your heart. His job is to stay by Veera's side, come what may -- and he does it well.
Surpanaka: Priya Mani, the National Award winner lives up to her reputation as she plays Vennila, the betrayed sister and the reason for Veera's supposedly horrible rampage against the police. Epics paint her as evil, and with designs on Rama but this story shows her almost as a heroine, and completely lust-free.
Vibeeshanan: Munna plays Sakkarai, a brief role of a peace-maker. But his role is so brief that it's almost pointless though his part in the tale is surprising, and makes Rama appear even blacker than necessary.
Considering such a solid background, obviously talented actors and beautiful settings, not to mention Santhosh Sivan and V Manikandan's scintillating cinematography, Sreekar Prasad's slick editing, A R Rahman's neat score (both background and songs), Sameer Chanda's brilliant art-work, one expected an epic. Not so.
The screenplay, instead of cruising along, stutters and stammers. Suhasini's dialogues make you cringe, and wonder if you're in some Japanese play. The intention is to make Veera the hero but it's been done at the expense of Dev, the Rama of the epic, who behaves so cruelly and with such pointless arrogance that one gets irritated.
There are no twists and turns, nothing in the narration that shows intelligence leaving the viewer detached, with nothing to relate to.
One major redeeming factor, however, is Vikram, the man who carries the film on his shoulders, and touches you in the last ten minutes. The vulnerability in his eyes show you what he's capable of, given the chance.
The other is Priya Mani, who makes it work despite the tiny screen-space she's allowed. The secondary characters work better than the principals, who seem stilted.
Raavanan is a beautiful travel package that shows you the best of Mother Nature, and considerably less of human nature. Go with low expectations, for it has lots of style but little substance.
Rediff Rating:

Read our Raavan reviews: Raja Sen gives it 2 stars.
New Yorker Aseem Chhabra gives it 4!