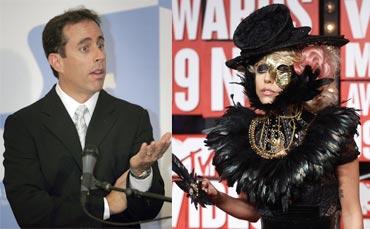 Lady Gaga may be the hottest musician around, but it seems she's ruffling quite a few feathers in the entertainment industry as of late.
After repeatedly drawing the ire of Sri Lankan-musician MIA, along with several other stars, now Gaga's upset top comedian Jerry Seinfeld, who gained international fame as the star of hit 90's sitcom Seinfeld.
Earlier this month, Gaga was at a New York Mets professional baseball game, when she removed her shirt, sat around in her bra, swilled beer and stuck up her middle finger for cameras and fans to see. Soon after, she was escorted to Seinfeld's private suite at the stadium.
This development didn't sit well with the comedian, who wasn't consulted about the decision. 'I can't believe they put her in my box that I paid for! You give people the finger and you get upgraded? Is that the world we're living in now?' Seinfeld later said on a New York sports radio show.
Getting into his trademark ironic, questioning style, Seinfeld asked: 'What is she giving the finger [for]? What's the finger anyway? Speaking of interesting and new, how old is the finger? How did it even get to be the finger?'
While admitting that Gaga has "talent", a half-joking Seinfeld said that he now "hates" her and called her a "jerk".
'I don't know what these young people think or how they promote their careers,' Seinfeld added. 'I'm older, I'm 56... I'm not one of these all-publicity-is-good people. People talk about you need exposure -- you could die of exposure.'