Home Secretary G K Pillai speaks to Rediff.com's Vicky Nanjappa.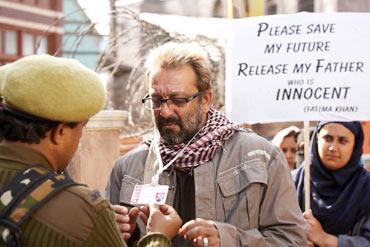 With Kashmir on the boil, one would think a film with the troubled valley as its theme could run into trouble with the government.
But Union Home Secretary G K Pillai says the government has no plans to stall the release of Lamhaa, which stars Sanjay Dutt, Anupam Kher, Bipasha Basu and Kunal Kapoor. Producer Bunty Walia's film is slated to release on July 16.
The film, set in Kashmir, tells the story about a soldier played by Dutt and his Kashmiri love interest, played by a de-glamorised Basu. Parzania director Rahul Dholakia had made the film.
Pillai told Rediff.com that there is no plan to ban the movie or stall its release. "Our security forces are in place and capable of handling the situation," he said.
The homse secretary felt that stalling or banning a movie is not the answer to the problem. "This is a democratic set-up and in a democracy people have the right to speak up and put forth their views. I am confident that the release of such a movie will not add to the existing problem," he added.
Dholakia told Rediff.com that he is happy with the home secretary's statement. "This is the right decision. It is the time to create an environment of trust so that the problems are solved. Kashmir is burning today and it is our responsibility to create an environment of trust," the director said.
His movie, he added, is not reflective of the government's views, but deals with the plight of resident Kashmiris. The film does not deal with the sentiments of India or Pakistan on this issue, he added. "We are just dealing with the state of the residents of that beautiful place."
"I am hopeful that the movie will do well," Dholakia said. His last film, starring Naseeruddin Shah and Sarika, is yet to be released in Gujarat.
Image: Sanjay Dutt in Lamhaa.