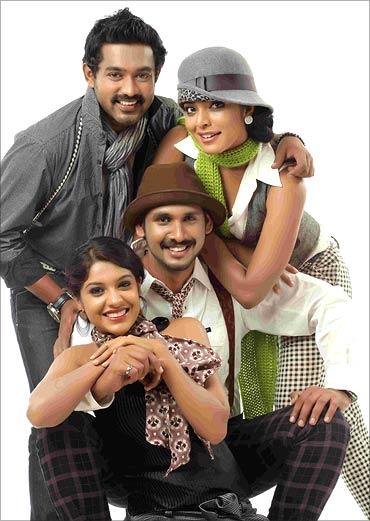 Director M A Nishad is making a laugh riot called Best of Luck, with four young stars from Malayalam cinema.
Kailash and Archana Kavi, the debutant pair of Neelathamara, play lovers in the film. Asif Ali and Rima Kallingal, who were noted in Rithu, make up the second couple.
Also playing important roles are Tamil actor Prabhu, who had a brief role in the recent film Pramani (with Mammootty in the lead) and Urvashi in an important role.
Produced under the banner of A & M Entertainments, Best of Luck is a drama with Prabhu playing a rich entrepreneur Vinayaka Naickar. Kailash plays his step-brother. Asif plays a budding filmmaker. Kailash will soon be seen with Mohanlal in Shikkaar while Asif Ali has two new releases lining up, Kadha Thudarunnu directed by Sathyan Anthikkad and Apoorva Ragam directed by Siby Malayil.
Sanjeev Sankar wields the camera. Dr Palash Sen and his band Euphoria make their entry into Malayalam cinema with some trendy music for the film.
"Best of Luck has been made keeping in mind the young generation. They are only concerned about the present and don't worry too much about the past or the future," says Nishad.
Shooting of Best of Luck is currently under way going on at Vaikom and the other main location for the film is Malaysia. The film will be released in July.