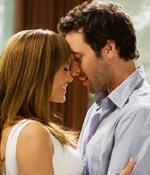 Expecting innovation or surprises in a romantic comedy is a good way to set oneself up for disappointment.
Even so, it bodes ill for a film where, despite a clever enough concept, nothing about it makes an audience member feel like they are actually watching a movie.
The idea is this: Jennifer Lopez returns to the big screen as Zoe, a pet store owner who doesn't feel like she is ever going to meet the right man, but she still wants a family of her own -- so she decides to get herself artificially inseminated so that she can get pregnant. As (romantic comedy) fate would have it, she meets a man (Alex O'Loughlin) on her way home from the clinic.
Now this guy really has the hots for this woman and even though she expresses initial disinterest, her defenses are easily breached by his charm. So much so, that he is not even that shaken up when he finds out that she is pregnant right after the first time they have sex.
Now none of this is spoiler information because it is all in the trailer for the film. What happens next? Well that is supposed to be the point of this movie. Except that it is not a very good point.
Both the leads do their jobs effectively and even though she is getting on in the years (boy, don't women love to hear that!), Ms Lopez isn't as annoying as another actress who shares her first name, was on an immensely successful American sitcom and is just not funny in big screen movies.
Mr O'Loughlin possesses the boyish good looks and ripped physique required of the second fiddle in movies like this which are essentially vehicles attempting to recapture the aura of a star that once was a pretty big box office draw.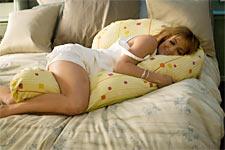 However, he does more than just look pretty and say the requisite lines. In a film that comes across as a poor facsimile of other more entertaining romantic comedies, the male character is actually written as a guy who might very well be every girl's dream guy. He is strong, upstanding and capable of handling shocking news without resorting to any bad behaviour at all. Imagine that.
But the rest of The Back-Up Plan is strictly by-the-numbers filmmaking and the numbers don't add up. The story is dull, the music is dull and the outcome is dull.
This movie is so blatantly a comeback vehicle for Ms Lopez that the filmmakers even include a scene where the leads discuss what used to be Ms Lopez's most famous body part. Yes, it is that kind of movie.
I don't even think too many people noticed that Jennifer Lopez had been gone from the scene for several years. I'm sure they wouldn't have minded waiting to see her in a better movie than this one.
Rediff Rating: