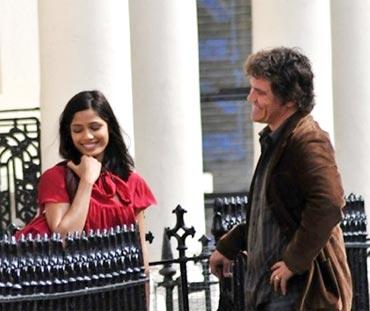 Freida Pinto is now part of an elite club, whose members include Diane Keaton, Mariel Hemingway, Mia Farrow, Dianne Wiest, Helen Hunt, Drew Barrymore, Scarlett Johansson and Penélope Cruz, to name a few.
She's been directed by the legendary Woody Allen.
The 74-year-old Allen's You Will Meet a Tall Dark Stranger, which features the Slumdog Millionaire star, screened this weekend at the Cannes Film Festival. She stars alongside Naomi Watts, Gemma Jones, Anthony Hopkins, Antonio Banderas and Josh Brolin,
 
In the film, Pinto plays Dia, a seductive and sexy Indian living in London, within view of the apartment of an American writer, played by Brolin, who -- despite being married -- can't keep his eyes off his sultry neighbour.
But, unlike the glowing testimonials given to many of Allen's leading ladies, the initial wave of 'You Will Meet..." reviews give Pinto's performance barely half a mention.
Reuters said, '(Antonio) Banderas is hardly in the movie and, like Pinto, seems cast for smouldering dark looks.'
UK daily, The Independent, mentioned only that Pinto is 'beautiful'.
The Times (London) quotes Brolin's character, talking about Dia, as saying, 'I've been busy exploring the erogenous zones of this creature.'
Generally, reviews of the film were neutral, leaning towards the 'uninspired' side of things, with The Los Angeles Times, on a blog post dedicated to the film, saying early reviews agree it isn't one of Allen's best efforts.
Entertainment Weekly also snarkily attacked the film as formulaic, in the process calling Freida "Barbie-doll beautiful", saying her character is a type of love interest so idealised she should have been "made of wax".
But, while the mainstream media reviews hardly took note of Pinto's performance, it seems some of the alternative media at Cannes paid attention.
Rope of Silicon, a film blog, wrote, 'Frieda Pinto shows some true talent in her first role since Slumdog Millionaire, where she was more the mysterious, pretty newcomer.'
Image: Freida Pinto and James Brolin in You Will Meet a Tall Dark Stranger