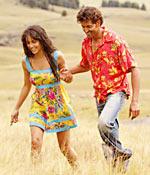 Kites, starring Hrithik Roshan and Mexican star Barbara Mori, has become the first Bollywood film to debut in the North American top ten on opening weekend.
According to studio estimates, the film has landed the tenth spot after raking in 952,682 dollars.
Shrek Forever After has, however, topped the weekend box office after raking in 71.3 million dollars.
Iron Man 2 landed the second spot with 26.6 million dollars.
Robin Hood came third with 18.7 million dollars while 'Letters To Juliet' stood fourth with 9.1 million dollars.
 
Just Wright rounded off the top five with 4.2 million dollars, reports E! Online.
The top ten are:
1. Shrek Forever After, $71.3 million
2. Iron Man 2, $26.6 million
3. Robin Hood, $18.7 million
4. Letters to Juliet, $9.1 million
5. Just Wright, $4.2 million
6. MacGruber, $4.1 million
7. Date Night, $2.8 million
8. A Nightmare on Elm Street, $2.3 million
9. How to Train Your Dragon, $1.9 million
10. Kites, $952,682
Read the alternate reviews here: Raja Sen | Matthew Schneeberger