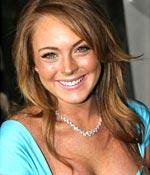 Lindsay Lohan has been fitted with an alcohol monitoring bracelet and has been ordered to go through random weekly drug tests.
Claims by Lohan's lawyer that the strict conditions implied on the actress' may interfere with her new film, were dismissed by judge Marsha Revel in Beverly Hills.
Judge Revel imposed the new terms after Lohan did not attend the probation hearing for a drunken driving case, reports The Telegraph.
'I am afraid she is going to have to delay them. She needs to submit to random testing here, not in Texas,' judge Revel said.
Lohan's latest assignment is Inferno, a biopic of Linda Lovelace, the star of the 1970s porn film Deep Throat.