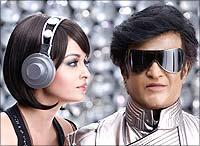 Krishnakumar Padmanabhan reviews Robot.

The Bad news first: There is no Rajnikanth 'entry' in Robot.

The movie cuts to chase directly, opening with Rajni working in a laboratory on a robot and gets on with business.

The Good news: The film more than makes up for it with the mother of all Indian movie climaxes, where Rajni is King Kong, he is the Incredible Hulk, he is Iron Man, he is a Transformer, and he is the Anaconda. He is everything you have seen in special effects laden Hollywood flicks. Heck, in one scene, pinned to giant magnet with his arms stretched, he even does a menacing Hannibal Lecter lunge.

Neatly bookended between these two scenes is Rajnikanth's biggest ever movie.

When regular hits became the norm, Rajni recalibrated his own benchmark for stardom with Baasha in 1996. In the 14 years since, directors have tried everything to make Rajni bigger than he already was. There was Baasha itself, where he had his greatest backstory unraveled after much intrigue. There was Padaiyappa, which pitted him against the most memorable lady villain in Tamil cinema. And then there was Sivaji, where he comes back from the dead. There was nothing more to be done, or so we thought.
Then comes a movie like Robot, where Rajni is the hero, villain, comedian and a multitude of henchmen. He even appears in drag in a song. Muthalvan/Nayak was said to be the greatest Rajnikanth movie in which he did not act in. Shankar rectifies that in Robot, which is the greatest yet for star and director. This is the first time in many years that a director has brought something to the table that enhances a Rajni movie. Along with it, he also proves that if you want to make a Rs 150 crore film, he is the go-to man.
The movie is not so much science fiction as much as it is about finding the right excuse to enable Rajni do what he usually does, and make it look plausible.

Dr Vaseegaran (Rajni) creates a humanoid robot, Chitti, (also Rajni) after 10 years of labour, during which he has hardly has any time for his parents or girlfriend Sana (Aishwarya Rai Bachchan). Attempting to plant emotions into the robot backfires as the robot takes a liking for Sana, at which point the good doctor decides to destroy it. In steps the evil scientist Dr Bhora (Danny Denzongpa) who not only resurrects Chitti but also turns him into a killing machine.

The film's first set piece takes some time coming, but is well worth the wait. From then on it is relentless action, culminating in a climax that will be hard to better for some time to come.

It is so much of a Rajni show that even regular characters that usually get some screen space like parents (we see them in two scenes), friends (Karunas and Santanam are completely overshadowed by Rajni even in the comedy scenes), heroine (every director in the past decade has tried in vain to pair Rajni and Ash, but she still does not have much to do) and villain (a powerful actor like Danny hardly registers his presence) are marginalised.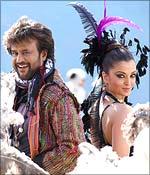 But in what little screen time they get together, what these two stars share is an easy camaraderie more than any great chemistry. It works in this case.

In retrospect, it is hard to imagine who else could have done this movie, and -- forget doing it so well -- merely even pulled it off. There are things in this movie that Rajni the villain does to Rajni the hero, which had any other actor done, would have seen theatres going up in flames.

In the end, this movie is as much about special effects as it is about Rajni. Overall, they may not be Avatar good, but they will definitely hold their own when compared with regular Hollywood action movies. And remember, while a Matrix cost $200 million, this was made for $30 million. But the effects are by a distance the best we have seen in Indian cinema.

On the flip side, there are enough bloopers for the movie to deserve its own section in our series. It is a tad too long, and the music is not exactly A R Rahman's best work. But these things seem to have been deliberately overlooked. The intent is clear from the beginning: To make a Rajni showcase like no other. By pitting him versus himself, Shankar has found just the right way to make Rajni just that much more larger than life.
While it is a given that we all like good vs evil, there is a visceral pleasure when both look the same -- like Rajni. There are places you root for the deviant robot to triumph over its creator. As he lusts after Sana and bays for his creator's blood, Rajni channelises some of his best badass acts from the past, chiefly Alex Pandian in Moondru Mugam.
So, if there is just one Rajni movie you will ever watch, this is it, this is it, this is it.
Rediff Rating: