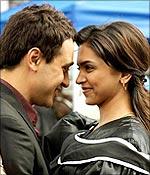 Sukanya Verma reviews the music of Break Ke Baad.

The trend of snazzy-looking (and soulless) romantic comedies is hot as ever. After I Hate Luv Storys, Aisha and Anjaana Anjaani, it is Imran Khan-Deepika Padukone starrer Break Ke Baad's turn to contribute in the genre.

While the Hollywood-inspired urban wit, attitude and sensibilities aren't lost on the desi audience, the influence is not just limited to narrative alone; it's been passed on in the ensuing soundtrack as well. And so music albums are increasingly sounding like a compilation of Hindi-speaking Oasis or The Beach Boys.

Break Ke Baad, directed by first-timer Danish Aslam for Kunal Kohli's home production, is no different in this regard. Even though composer duo Vishal-Shekhar who've had a good run following the success of IHLS and Anjaana Anjaani whip up a fairly breezy score, the novelty is fast wearing off. Even the dulcet troika of Shankar-Ehsaan-Loy keeps changing it up every few projects and one expects nothing less from these two talented musicians.

The melodies woven around Prasoon Joshi's vivid, lyrical imagination bear an easy-going, casual air reflecting the accessible, happy-go-lucky state of Generation X and are pleasantly articulated through Vishal Dadlani and Alyssa Mendoca's zingy vocals in Adhoore. The song talks about the uneasy repercussions of separation with the white-washed optimism of IHLS's still infectious Jab mila tu. The remix, however, is strictly functional.

For the saxophone-heavy Ajab leher, Bombay Viking frontman Neeraj Sridhar, along with Vishal-Shekhar and Rhys D'Souza, channel the awe and amusement of a besotted fella with animated verve even as Joshi's fertile penmanship takes centre stage. Here's a sampler: Ajab lehar hai meri padosi. Ajab se chhitte, ajab ishaare.
The man's flair for juggling with words and imagery is at its optimum in Dhoop ke makaan, easily the best of the lot. Sensing the delicacy of this creation, V-S opts for a relaxed arrangement allowing the combination of Shekhar's jelly-smooth vocals and Sunidhi Chauhan's spirited fervour do all the talking. Its acoustic version featuring Hitesh Sonik opens, curiously enough, like one of the theme pieces of Gustavo Santaolalla's Babel but reverts to its essential notes soon enough. Win-win, all the way.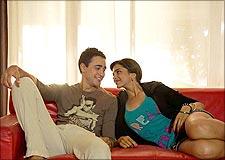 Following the charm and calm of Dhoop ke makaan, the album slips into rock mode with Shaa'ir + Func's Monica Dogra and Vishal bringing the house down whilst exchanging notes on the importance of space in romance or the erstwhile 'absence makes the heart grow fonder' adage. As a standalone melody, Dooriyan hain zaroori is hardly exceptional but the joint dynamism of its singing duo makes all the difference.

It's like Vishal-Shekhar took half a portion of Eels' Royal Pain and another half of The Turtles' all-time classic, Happy Together and concocted a burly cocktail called Main jiyoonga. Super silvery Nikhil D'Souza of Shaam (Aisha) and Anjaana Anjaani's title track fame is at helm. And if he isn't already inundated with song offers, Bollywood better watch out for this gifted guy. Meanwhile, Vishal ropes himself to perform its tongue-in-cheek English version, Don't worry about me.

Bottomline: A fun soundtrack if nothing remarkable. Guess we'll just let Vishal-Shekhar get off the hook this one time for their competent albeit repetitious score. Let's see how they fare break ke baad, huh?
Rediff Rating: