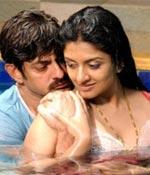 Radhika Rajamani reviews the Telugu film, Gaayam 2

Gaayam which released way back in 1993 was a 'trend setter' of sorts helmed by Ram Gopal Varma. The film which dealt with dons, politicians, caste etc was way ahead of its time. The film gave the film's lead Jagapathi Babu a 'new life' in cinema.
Now the actor returns with the sequel Gaayam 2 helmed by debutant director Praveen Sri. Technically, though Gaayam 2 is a sequel, you can take it watch it as a stand alone film as there are flashbacks to the original.
Gaayam 2 takes the story forward but it is still mired in the don-politician nexus and surrounding issues. An attempt is made to give it a family film flavour in the first half though it moves to be a 'don' film in the second.
The film begins in Bangkok where a happy family man, Ram (Jagapathi Babu), Vidya (Vimala Raman) and Chaitu live. Ram runs a cafe with his brother-in-law and his wife. Ram and Vidya play a lovey-dovey couple in love with their son Chaitu. So, one gets to see a bit of Bangkok in the scenes and songs replete with beaches, Buddha and all. A couple of nice songs tuned by Ilaiyaraja complete the joyful picture.
One day all goes amiss when Ram shoots down two men who try to misbehave with his female employee in his cafe. Overnight Ram becomes a hero in Bangkok and is portrayed on television. On seeing this, Shankaranarayan (the late Kota Prasad), son of Gurunarayan (Kota Srinivas Rao) flies to Bangkok with their lawyer (Tanikella Bharani) as he feels he has seen Durga (the dreaded Don, their rival). It's this mistaken identity which haunts Ram. Is it a link with the past? Is Ram hiding something? The film is all about this aspect.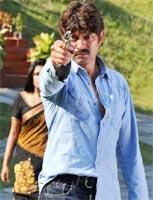 Gurunararayan's aspirations to become a chief minister forms the main issue and whether he sees Ram as a thorn in his scheme is what the film is all about in the second half. The issues raised are nothing new.
The clash between Ram and Gurunarayana brings about a sense of deja vu. Also if Gaayam had his famous Michael Jackson scene, Gaayam 2 has Madonna. These show that even baddies have a humorous side to them.
Director Praveen Sri ensures the connecting chord between both the films in terms of story and cast to a large extent. Some of his shot compositions are good. However, he has brought in no new elements to the film. In essence, the director just moves ahead in time with less complexity in the story. But he ensures that one is glued to the screen to a large extent with the rather taut narration. Thankfully, the violence is toned down.
Jagapathi Babu is fine as Ram. His trim appearance suits the role well and he is able to carry off his character role with panache. Vimala Raman as Vidya is convincing. The chemistry between Jagapathi Babu and Vimala Raman is good and delightful to watch. Nothing needs to be said about Kota Srinivasa Rao as he is a veteran who can carry off such roles with confidence. He is powerful in his portrayal and his Telangana dialogues are impeccable. Kota Prasad, his son (in real life too) delivers as the hot-headed and impulsive son. Tanikella Bharani, another stalwart, is at ease in his role of a lawyer.
Ilaiyaraja's music sounds different. Anil Bhandari's cinematography captures picturesque Bangkok well. Even the action sequences are well done. Editing by Praveen Reddy is neat.
All in all, watch Gaayam 2 for the performances even though the original may have been shades better.
Rediff Rating: