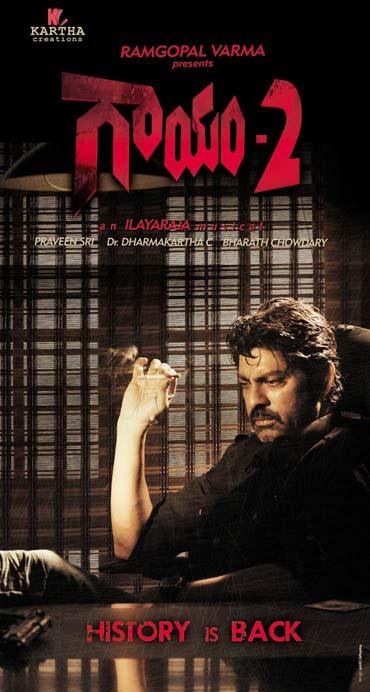 Even after 17 years of its release, the Telugu film Gaayam is remembered by many.
Directed by Ram Gopal Varma (RGV) with a screenplay by Mani Ratnam, Gaayam made a star out the film's hero, Jagapathi Babu. The film also starred Revathy, Urmila Matondkar, Gummadi, Tanikella Bharani, Kota Srinivasa Rao and Uttej. 
Now after more than a decade and a half, it's sequel, Gaayam 2 is being made. This time however, Ram Gopal Varma is not helming it -- he is presenting the movie, though. Rather it is his protege, Praveen Sri, who is directing the sequel. RGV
Jagapathi Babu reprises his role with Vimala Raman (of Evaraina Epudaina fame) in tow.
The sequel is produced by Dharmakartha C and music is by maestro Ilaiyaraja. Anil Bhandari handles the camera and Praveen Reddy is the editor of Gaayam 2. The film is scheduled to release in September.
Initially, Ram Gopal Varma was hesitant about a sequel as many years has passed since the first movie was released. He was also not very sure of debutant Praveen Sri's directing abilities. But when Praveen Sri narrated a few crucial sequences, he realised that his protege was ready to direct a film. 
Jagapathi Babu, who experienced a good turnaround in his career with Gaayam, counts the film to be one of his best movies. "As an actor, I didn't act well but I must give credit to RGV as a director. He takes anybody and makes him a star. Ramu made me dub my voice for the film and the voice became famous."
Jagapathi Babu continues, "the director has connected the film well. The issues are the same and there is a proper continuation. The script of the sequel was convincing. I wouldn't want to spoil Gaayam and wouldn't have agreed to a sequel if I didn't have confidence in it. 
Like Jagapathi Babu, the sequel sees the return of Tanikella Bharani and Kota Srinivasa Rao. Unfortunately, Kota Prasad, son of Kota Srinivasa Rao, who essayed the role of villain in Gaayam 2, passed away in a road accident recently.