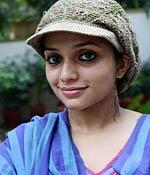 Paresh C Palicha reviews the Malayalam movie, Elsamma Enna Aankutty.
There are very few film-makers who leave their stamp on every creation of theirs and director Lal Jose is one of them. His films always have a lush and rich feel to them. Ditto for his new Malayalam film Elsamma Enna Aankutty. The subject is not fresh or new but still it leaves a mark. The film was in the news as it was the launchpad of Ann Augustine, daughter of actor Augustine.
The story as mentioned earlier is not fresh or new; it is about a young female taking charge of the family in the absence of a man of the house. The premise is dealt with by other directors in a profound or serious manner in the past but in the hands of Lal Jose, the scenario becomes light and fluffy. It does not make the viewer brood or even sympathise with the characters. The protagonist very over confident and wins all the time.
Elsamma (Ann Augustine) is an all rounder in the real sense of the term; she is a newspaper girl and a reporter too. She has the gumption to take on the local politician played by Jagathy Sreekumar as well as the rich vendor of illicit liquor played by Vijayaragavan, in the village. She has also taken the charge of her three younger female siblings. The ubiquitous romance never really happens for her even though she has a silent admirer in Palunni (Kunchako Boban), a dairy farmer and a milk vendor, who is her professional companion as well as friend.
We expect the situation to change for the worse when city bred Ebby (Indrajith) and her sister Sherin come to live in the neighbourhood with their friends in tow. However, the script by Sindhuraj never let things go out of Elsamma's hands. The sentimental or the emotional threshold is never visited, thus making Elsamma a superhero as she always takes control of things before they go haywire.
There is no doubt that this is a dream debut for Ann Augustine and she does impress us with her looks and controlled performance. But we never really get a chance to see her emotionally charged or vulnerable thereby rendering her character static.
The rest of the cast, which includes Kunchako Boban, Nedumudi Venu, Jagathy Sreekumar and KPAC Lalitha support Ann well.
All in all, Elsamma Enna Aankutty cannot be termed as Lal Jose's best work but it carries his stamp nonetheless.
Rediff Rating: