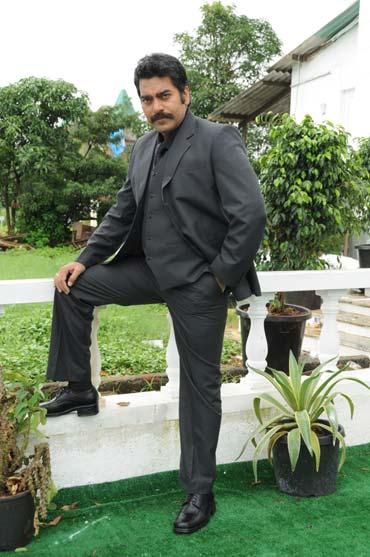 Ashutosh Rana is an actor who enters the skin of his character in most roles. But most noteworthy among them have been his negative roles. Who can forget him in Dushman, Kalyug and Sangharsh?
Now, Rana, who started his career on television with shows like Swabhiman, Sazish and Farz, will once again play the antagonist. This time in Kaali -- Ek Agnipariksha, which will premiere on Star Plus on September 13, at 11 pm.
Kaali is the story of a teenage girl, Rachna, who dreams of becoming India's next badminton star. She is threatened by Thakral, essayed by Rana, but fights back. The show has reportedly drawn inspiration from the Ruchika Girotra case. However, the makers and the actors of the show have denied it.  
"Thakral is a mahabali with intelligence, power of people, wealth and strength," said Rana. "He is a unique combination of Ravaan and Duryodhan. Thakral projects himself as a good man, but he is a man with bad intentions. He is someone who will help you in your growth, but at your cost. He controls the political system and influences everyone with his good deeds."
The actor says he doesn't differentiate between the big or small screen. "It can be any medium; acting is important for me," he added. "I can convincingly act out negative roles with a positive attitude. That is why people still remember my negative characters like the psychopathic killer in Dushman and Lajja Shankar in Sangharsh."
Is it to difficult to accept negative roles and make them stand out from the roles he has played in the past? "I just go with my gut feeling," said Rana. "If I feel it's challenging and it will help me grow as an actor I take it up. The roles I have played so far are different and I have never repeated them."
He is optimistic about the show. "We have not had political drama on a TV for a longtime," he said. "Kaali is one show that will bring outside politics to the kitchens. This show will not fail. If it does, then you must tell people to shut up if they complain of only saas bahu soaps on TV."
Asked about his children's reaction to him playing negative characters, Rana said he and his wife, actress Renuka Shahane, had kept their boys away from their work.
"Our children need to first understand what characters their parents play on screen is different from what we are in real life," he said. "So, we try not to allow them to watch our work, but sometimes they get a glimpse of it on TV which is fine"
Catch Kaali -- Ek Agnipariksha on Star Plus on September 13, at 11 pm