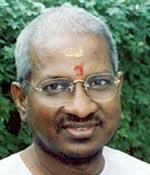 What is really left to say of a man who practically redefined Tamil cinema music?


Starting from the seventies, he has composed more than 4500 songs (and still counting), worked on more than 900 films for more than 30 years in more than a few Indian languages, and won legions of fans and awards. That's Ilaiyaraja for you -- praise and accomplishments sit easily on him.

He has just won the National Award for background score, for the Malayalam film Kerala Varma Pazhassi Raja but all he thinks about in his own words, is music. In many ways the tale of Pazhassi Raja who fought the British in his own way, was given a unique touch of poignancy by Raja's sensitive score.

The beginning
The maestro's life-history is nothing short of miraculous. Born into less-than-privileged circumstances on June 2, 1943, Raja, originally named Daniel Rajayya in Pannaipuram, grew up with his brothers, surrounded by music. Hiring himself out as a musician, playing a guitar or keyboard, Ilaiyaraja's first true break arrived in the form of Panchu Arunachalam's Annakili.
To an audience that had been used to tailor-made tunes set to star specifications, the earthy folk tunes were a soothing piece of sun, earth and wind. And his star began to ascend. Throughout the years that followed, the maestro combined western and folk tunes to produce classics that survived long after the films themselves. The list is too numerous to re-produce here, but some eternal favourites of the seventies were Sigappu Rojakkal, 16 Vayathinile, Kizhakke Pogum Rail,  Mullum Malarum, et al.
Ruling the eighties
The winning streak continued with more unforgettable hits in the eighties in movies like Moondram Pirai (which was remade in Hindi as Sadma). Best of all, though, was the fact that Ilaiyaraja excelled not just in composing songs -- something he did at a speed that impressed directors including Mani Ratnam, with whom he shared a special rapport -- but that his background score won the hearts of millions of listeners and were classics in their own right.
Background music
Who can forget the bittersweet piano notes that throw open the doors to agony, romance, sorrow or resignation, in Mouna Raagam's title-credits? Or the tantalizing medley of flute and guitar, for Johnny? The eternally beautiful, almost divine melody that symbolizes the best of dance, in Kamal Haasan's classic, Punnagai Mannan? The temple bells tolling as a prelude to the angst-filled background score of Nayagan? The entirety of Thalapathy, which won unanimous approval from even western critics?
Many of Raja's fans swear that they can identify even specific scenes of any given movie just by listening to a piece of his background score, so distinctive is the piece.
Entire generations grew up listening to his songs, wafting out from loudspeakers all over the state. There's no genre Ilaiyaraja has left untouched: dance music, classic carnatic earthy folk, gentle western music – he's sampled them all, handing out classic pieces in delectable fashion.
Unique albums
He's also credited with introducing and bringing to the limelight a host of talented singers: SPB, S Janaki, K J Yesudass, Swarnalatha, Malaysia Vasudevan, and Shreya Ghoshal, to name just a few. And lest you think that his accomplishments stopped with filmi music, Raja produced two unique albums Nothing But Wind and How to Name it, both a charming mix of Indian and Western music. In 2005, he came up with Thiruvasakam: A Crossover, which was performed by the Budapest Symphony Orchestra to much acclaim. Western artists such as MIA and Black Eyed Peas have covered his work in their respective albums.
Ever since Kalaignar M Karunanidhi conferred the title of Isaignani, in 1988, the title has stuck to him on par with the many awards he's received throughout his career, still going strong.
National Awards
National Awards were aplenty too, for films like Sindhu Bhairavi (considered by many to be the best of modern films that successfully bring carnatic music to a mainstream audience), Sagara Sangamam and Rudraveena. These are but a small sample of the many honours he received; the best still happens to be the one conferred on him by fans, that of "King of BGM."
Raja might have cut down on his work in recent times, but his music still holds as strong a sway as ever. Movies like Pithamagan, Naan Kadavul, Nandhalala while Paa and Cheeni Kum in Hindi have captivated listeners as well. Among his latest works is director Suseendran's Azhagar Saamiyin Kudhirai.
Perhaps the strongest evidence that Ilaiyaraja has an undeniable place in the hearts of the children of the seventies, eighties and even beyond, is the resurgence of his songs in many movies released in the last three years; Subramaniyapuram, Pasanga, Vennila Kabaddi Kuzhu, Saroja, et al, use a good deal of Raja's score, to evoke the nostalgia and old-world charm that is typical of rural scenes.
Musicians may come and go but some live on forever. Ilaiyaraja is one of them.