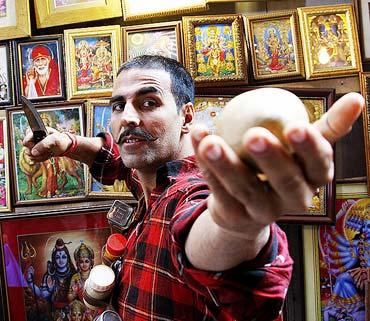 We asked readers to send us bloopers that they have spotted in Hindi films.

Reader Narayan Balakrishnan shares with us a blooper that he spotted in the movie Chandni Chowk to China.

In the film, Akshay Kumar finds a potato in the shape of Lord Ganesha. He carries it along to China.

His adventures start, where he falls in love, gets beaten up and even learns martial arts.

But later, in the climax, when Akshay is fighting with the villain, the potato is still around.

How long does a potato last anyway?

Have you spotted any Bollywood bloopers recently?
Tell us about your favourite and funniest! Keep the Bollywood bloopers coming, guys!