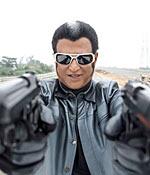 Rajnikanth's new film Endhiran/ Robot is up for release this week and fans all over India are super-excited!

People are queuing up outside theatres at dawn just to get a first day, first show ticket. And the lines are endless! Don't believe us? Check out this video taken in Chennai!

Like all Rajni films, Endhiran will see poojas in some theatres to ensure its success -- a sight we never see for other film releases.

If you happen to see the Rajni madness, or even are part of it yourself, shoot videos of the excitement and mail it to us. We will publish them right here. You can send us pictures as well. Don't forget to send in your names and location!