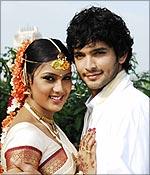 After a gap of nearly five years, director Mahesh Sukhadhare returns to the marquee with Male Bille, a Kannada film starring Diganth and newcomer Akshay.
As Mahesh made many decent films with original scripts, Malle Bille for which he is credited as a producer too, was keenly awaited by the audience. Mahesh had also said that he has made the film for the present generation by updating himself with the current trends and aspirations of the youth.  
Alas, all these pre-release statements turn out to be tall claims with the film offering an ordinary fare. Though Mahesh has tried to bring introduce a new background in the second half, his attempts to narrate a credible story fall flat because the narration is formulaic and predictable at every turn.
The forced inclusion of tasteless comedy sequences and predictable climax sequences further downgrades the film. 
The story is about Anjali who hails from a middle class family. She goes to Bangalore to sit for her CET exams. While on the bus she meets Anand, a happy-go-lucky guy makes Anjali the butt of all jokes. Anjali finds Anand irresponsible person.
The story continues with Anjali becoming a software engineer while Anand ends up as a poorly paid sales promotion agent. On the eve of her marriage to her handsome boss Akash, she finds out something about Anand that drastically changes her opinions of him.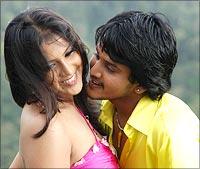 Mahesh's previous films Sambhrama and Sainika achieved a level of success mainly because of well written scripts. But in this new film he fails to write a credible script, which has space for almost every commercial ingredient.
The first half of the film is so dull that many a times members of the audience can be seen popping out for a smoke or break.
Mahesh Sukhadhare has also been handicapped by his poor selection of artists. Newcomer Akshay lacks experience for the role he has been assigned. Even Pragna overacts in the first half. Diganth's role is limited to a fight and some confused reactions.   Veterans Doddanna, Sangeetha and Ramakrishna are good in their respective roles. 
The real asset of the film is Manikanth Kadri's music. Two songs -- Chandamaama, Chandamaama and Nanage Ninna Muddisuvaase are well composed though the choreography is found lacking. The background music oscillates between good and ordinary. Suri's cinematographic work is above average. 
All in all, Male Bille suffers mainly because of an indifferent script.
Rediff Rating: