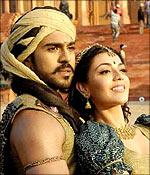 C 1600 Aravalli, the kingdom of Udaygarh. Two lovers die; one a warrior and the other a princess, confessing their love for each other. Their love remains unfulfilled. And the person who cremates them -- Sher Khan (Srihari) says aloud that they will be reborn again to unite. Fast forward 400 years, and lo, they are.
A reincarnation story is not often seen in Telugu cinema and SS Rajamouli uses this theme for Ram Charan Teja's second film Magadheera.
Well, Rajamouli's Magadheera, a fantasy tale should be seen on many grounds- it's a magnum opus production with great technical work. It's a high-budget extravaganza which shows in almost every frame. It's directed by SS Rajamouli, one of the top directors in the Telugu industry. It's got fine music by MM Keeravani, brilliant camera work by Senthil, good art direction by Ravinder, good styling and costumes by Rama Rajamouli and is edited well by Kotagiri Venkateswara Rao. The graphics are excellent for a Telugu movie. Overall, the movie is a mainstream one with good packaging.
The tale goes back and forth into the past and the present. The period, the contemporary look and styling of the film is in sync with the depiction. The accomplished and skilled warrior Bhairava (Ram Charan Teja) wants to marry the princess of Udaygarh Mitra (Kajal Agarwal) ) and even wins her in the race against competitor Randev (who is the senapati and the villain, the traitor who allows the enemy Sher Khan into the kingdom) but bows down to the wishes of her father and does not. Bhairava is so consummate a warrior that he even killed 100 warriors of Sher Khan (who has been over riding kingdoms before he eyed Udaygarh) before dying like a true warrior. Bhairava's valour impressed Sher Khan so much that he even cremated him.
Cut to modern times where Harsha (Charan) rubs his fingers against a girl in a white churidar and feels a vibration, and realises it's the princess. He remembers his past birth and goes in search of this girl who after a chase reveals her name as Indu (Kajal).
Randev is reborn as Raghuvir, Indu's cousin. Raghuvir sees Indu and is smitten by her. Will the lovers reunite in this birth?
As far as story is concerned, there's nothing great or new about Magadheera. It's the production and direction which makes up for this. Rajamouli's deft direction plugs the loopholes and knowing the pulse of the audience crafts a mainstream film.
In reincarnation stories it's best to forget reason and logic and see the story for one can never question and find answers to them. What's strange is that only the boy remembers and feels the vibrations, and not the girl. There is some kind of similarity to Arundhati in terms of the reincarnation element of the story and the presence of the Aghora.
Keeravani's music sounds good on screen. The Bangaru Kodipetta song with Chiru doing a cameo with Mumaith Khan is sure to draw audiences. Keeravani and Kalyani Malik's background score is also in tune and does not overshadow the image. Kim Sharma's item number seemed unwarranted though.
Senthil's camera pans a landscape which is 'period' and 'present' in a beautiful way. The sepia tones and the white stark landscapes against a blue sky are stunningly captured. The difference in colour tones mark the periods well.
The magnificent sets created by Ravinder especially of Udaygarh are a treat to watch on screen, plus his art direction. Rama's Rajamouli's ensemble's and the styling is rich and elegant and worth a watch. Her effort shows off on screen.
Ram Charan seems to be a chip of the old block when it comes to dancing. For, he is very flexible and dances well like his dad. He's got a lot to do in this film from horse riding to sword fighting to singing and dancing. He's done them all pretty well though one felt that he needs to hone his skills of acting further particularly in expressing emotions. Also, one feels he need to have more josh to be a warrior -- at times one felt he was rather subdued.
Kajal Agarwal was quite a surprise package. She was sweet and charming and looked like an 'ethereal' princess. She carries off both the roles fairly well. Srihari was at his usual best performing both roles (later he's born as Solomon-the fisherman).
The song with all the technicians making their appearance at the end is innovative and Rajamouli should be appreciated for this.
Rajamouli has packaged Magadheera well as a mainstream film. Have a look at it for its technical brilliance.
Rediff Rating: