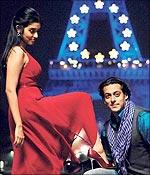 London Dreams has a lot going for it. Two big ticket stars, Ajay Devgn and Salman Khan, a successful producer-director, Vipul Shah, who has delivered hits like Namastey London and Singh is Kinng, brilliant music by Shankar Ehsaan Loy and a matching background score by Salim Sulaiman.
But the technical flourish and the lavish canvas fail to deliver what's promised. Neither does London Dreams have the subtle, nuanced play of emotions of Abhimaan, nor does it have the edge and soul of Rock On, two of the finest films on music and musicians in Bollywood from two different generations.
And while London Dreams may have liberally borrowed from the classic Amadeus (Milos Forman's take on Mozart and Salieri's lives), it comes across as one of those 'Made-in-China' copies. There's nothing inside. 
The film is a story about two boys in Bhatinda, Punjab, who are the best of friends but two very different kids. And who grow up to be the perfect opposite of each other.
Ajay Devgn is passionate about music and follows it with disturbing ruthlessness. Salman Khan is the reluctant talent who does not realise his own genius. Things are fine until Devgn brings Salman to London to join his band London Dreams. Devgn's life turns upside down when a well-meaning Salman unknowingly steals his thunder and his girl. What happens after that forms the rest of the story.  
Sounds delicious, and it could have been a gourmet treat, had the chef mixed the ingredients right.
Devgn is supposed to be this dark, intense, aspiring "Mai Ka Lal Jai Kishen" (that's Michael Jackson for a lot of Indians), but his character is extremely sketchy and unrealistic. For example, his oath of celibacy to pursue his dream of performing at Wembley stadium, or his self-flagellation (yes, he actually whips himself with a belt because he falls in love with a girl), will have you laughing. It may have worked in an 18th century European setting for Amadeus but this is London, 2009 guys!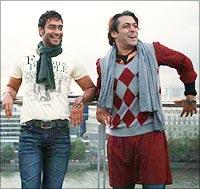 His emotional outburst to a 90,000-strong crowd that demands to see his buddy Salman on stage, is another crucial scene that fails. At a moment when his most cherished dream crumbles and his credibility is at stake, he is given with some rather lame lines.
And the climax comes a bit too early, with the tail end of the film dragging on for an eternity.
Salman, as Devgn's rustic but fiercely loyal friend who is a womaniser with a heart of gold, actually steals Devgn's thunder, by design and otherwise. He gets the funniest lines, the best song visualisations, and the best character graph. His signature buffoonery, his emotional outbursts, his swagger, and his outrageous styling -- everything comes together to endear him to the audiences. 
The biggest problem with London Dreams is that in a film about music and its lessons in humility, the most crucial musical moments are handled amateurishly, which makes it all look unconvincing.  
The band's spectacular rise is as hurried and implausible as Devgn's growing up in an alien country on his own by playing flute at street corners.
The film is about an aspiring pop star (and his band London Dreams) but we do not know how every pretty young thing in UK becomes an overnight fan of a Hindi pop band, willing to sleep with the band members at every opportunity. There are two random guitar-toting flunkeys -- Aditya Kapoor and Rannvijay -- who literally jump around like boys with a toy gun.     
The way Devgn's band is formed is quite ridiculous too. He begins singing at London's Trafalgar Square and suddenly Aditya Kapoor (with an acoustic guitar) and Rannvijay join him on the stage and begin jamming to an electronic number. By the time they get off the stage, the band is in place, and Devgn is ordering them around as the 'band leader.'
Asin, lovely to look at, is but a bizarre cross between a cheerleader and a groupie, whose talent lies in doing variations of the belly dance on stage. She joins the band at a make-or-break audition after this conversation: "Main kya karun?" she asks Rannvijay. "Just go with the flow," he answers. So, she shimmies and shakes a bit to impress the judges.
You have no idea what "hunar" (talent) Devgn is talking about when he urges Asin's conservative father to let her join the band on a world tour. "It is a fantastic opportunity for your daughter", Devgn tells Asin's father with all sincerity. And so she gets to tour Rome, Paris, Amsterdam with the boys, stay in palatial suites. And, once in a while, dance with the firang extras in the background.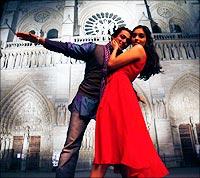 You can see where Vipul Shah's strength lies. The rustic scenes, the earthy humour, the emotional bonding, the comic sequences. He falters when it comes to the band, the music.
Besides, Devgn, a fine actor who has fit into comic roles with remarkable ease, fails to connect with you as a musician. His anguish and his intensity is all there, but even if was a deep-sea diver instead of a musician, it would not make any difference to his story.
Sejal Shah's cinematography is commendable. Some of the songs by Shankar Ehsaan Loy leap out from the screen, thanks to the refreshing choreography. The film benefits hugely from both. The Bhatinda-at night scene, where Devgn and Salman drink under a starlit sky, is absolutely dreamy, while some of the concert scenes where the devil in Devgn's rears its head, are deftly handled.
But London Dreams belongs to Salman. And though this becomes a problem for Devgn in the film and he plots to ruin him, there is precious little he can do about it in the theatres. One of the characters say about Salman in the film, "He's not a better talent, he's got adaa (style)". And that kind of sums it up.       
You may like London Dreams for its beautiful frames, some paisa-vasool moments between Salman and Devgn, a good background score and catchy songs. For the rest, you need willing suspension of disbelief. And large doses of it.
Rediff Rating: