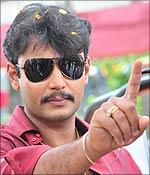 Shruti Indira Lakshminarayana reviews the Kannada film, Shourya.
While the loving brother in Surya is searching for his long lost sister, the cop in him is dedicated to bringing to book the city's notorious rowdies. Sounds familiar? Yes, Telugu's Shouryam comes to Kannada audience as Shourya.
Directed by Sadhu Kokila, the film stars Darshan, who has both played a cop and been a part of brother-sister sentiments before, in the lead. As the film opens, Surya (Darshan) is seen bashing up a few baddies and then seeking admission in a college a little later.
Here he meets Shweta (Madalasa), the tomboy of the college and her gang of friends. And in true filmi style, Surya a few scenes later manages to convert Shweta's hatred towards him to profound love. With a few not so funny minor interruptions from wannabe Mike Tyson, Jimson (Sadhu kokila) the sports in-charge and an action packed chase sequence, Surya reveals the reason behind his joining the college and protecting Vidya (Reema), Shweta's friend.
The second half, a series of flashbacks, gives a background on Surya.
Action packed situations dominate this film. The one in which the hero is shown taking on the villains on a railway track is sure to please the front benchers.
As the film has a brother-sister track, emotions run high in the second half. Comedy by Bullet Prakash and Om Prakash Rao, in the second half, is well timed between heavy duty action sequences but the film would have been crisper if only the duration of their scenes were a little shorter. 
Songs including an item song by Mumaith Khan add no weightage to the film, though.
Most dialogues by K V Raju are in sync with Darshan's 'Challenging Star' image.
Fans won't be disappointed with Darshan's acting either. He is convincing as the bold cop. Madalasa has ample scope for skin show. Reema handles her role well. Ramesh Bhat, Sudha Belawadi and Avinash play minor roles. Sampath Kumar does a neat job as villain Verma.
All in all, Shourya is a commercial mass entertainer that will appeal to Darshan's fans.
Rediff Rating: