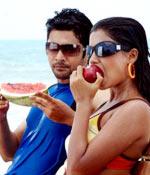 There are a few points that are definitely in favour of R Films' Tamil film, Moscowin Kaveri (Moscow's Kaveri), directed by cinematographer Ravi Varman. The first is obviously the name, which seems like a study in contrasts, evoking serene and beautiful images in your mind.
The second is the cinematography. No surprises there, as the director, a noted camera-man himself, has shot the film; every frame looks like a picture-postcard. Scenes are a riot of colours and every character is presented in the best way possible. Art director Thotta Tharani makes every home in the movie look beautiful.
Music director Thaman S has put together a neat collection of tunes, like Nee Onrum and Adhikalai Pookal. By rights, this one should have been a lovable, breezy romantic entertainer (which is the impression you gain from the trailers.) Sadly, the reverse is true.
There's a sinking feeling in your stomach right from the beginning as you're introduced to the cast: up-market software engineer Moscow (Rahul) lives alone in a suite of beautifully furnished rooms in Chennai, decked with classy ornaments. A montage of shots show him a s fun-loving peppy youngster until he meets Kaveri (Samantha, her debut movie), another software engineer, supposedly a perfectionist who lives in equally classy, furnished rooms, with giant teddy bears, summery tops and fashionable jeans.
Both are urban youngsters with rural roots (which you see precious little of, as they might as well be educated in the States.) You begin to wonder how much more of this richness you can stand, when it's explained that both earn well; they can afford to spend lavishly. (Much later, you realize that this unrealistic portrayal ends up being the only rational part of the movie.)
The silliness starts in earnest as Moscow engages in persistent pursuit of Kaveri from Chennai to Goa and back, writes letters to himself from his mother (!) and is furiously rejected by Kaveri. Abruptly, Kaveri experiences a sudden change of heart, wears a billowing ball-gown and journeys to his village (she has no idea about who he is or where he lives), declares her love for him in front of the entire population and voila: the love-birds are back in Chennai and living together in a matter of days!
The doubt that you're perhaps watching a pseudo-thriller does cross your mind at times, as you're treated to random snatches of a police officer, a villain who murders at will and is hunted by said cop but these vanish into thin air as you're yanked back to the completely senseless adventures of Moscow and Kaveri, who buy a huge mansion on the ECR road in Chennai (because Moscow's house-owner objects to their living together) and lead an extremely happy existence, singing songs and wearing beautifully coordinated clothes. (Sai, the costume designer deserves a pat on the back. But why does Kaveri wear only one sari throughout the film?)
Kaveri's parents apparently know about this state of existence, but despite living relatively conservative lives in a village themselves, have absolutely no objection to this! No one does, actually, except for Moscow's erstwhile house-owner. As for Moscow's antecedents, there's no way of knowing anything. Everyone is friendly with the couple, lends them homes at the drop of a hat and smiles all the time. Until trouble strikes (in a minor fashion) in paradise. Finally.
Samantha looks pretty and is everything her character has to be; she wears her clothes well and is the mandatory pretty girl, even becoming expressive when it's required of her.
Newcomer Rahul smiles too much and looks like he could do well, given the chance. Random people like Rohini and director Seeman make sudden appearances and vanish without explanation. Santhanam has an entire comedy track that wrings some laughter from us but even this seems contrived and makes no sense.
The biggest failure is the script, filled with gaping plot-craters. The film is apparently a leaf out of the life of director Ravi Varman, but there's no meaning behind half the things the cast are doing. There are shades of Alaipayuthey, but the sensitivity and nuances of that classic find no place here. Everything appears choppy and rushed. The intermission arrives in short order, and the second half is even more ridiculous than the first as people just waltz in and out of scenes without relevance.
The dialogues are obviously meant to be heart-felt and poetic, but the only response to their stilted delivery is a hoot of laughter from the audience.
The much touted song Gorey Gorey (itself a re-work from the Telugu Kick), makes no appearance at all. As for the climax, it rivals the entire film in sheer absurdity.
Moscowin Kaveri looks good. But that's about all that can be said about it.
Rediff Rating: