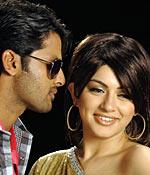 Though the title of the new Telugu movie Seetharamula Kalyanam (Lankalo) is the same as the classic, the similarities between the two end here.
The new film is yet another love story that takes the beaten track of boy meets girl who spar initially but soon realise they are in love. Enter the villain and thankfully this time round, it is not the parents but a faction leader who sets his evil eye on the young lady and wants to marry her.
Chandu (Nitin) and Nandu (Hansika), are the lead protagonists, who in the course of the film go to rich locales, sing songs and fool around a little bit. Nandu's father, a faction leader is good at heart. Despite fixing Nandu's alliance with somebody else, he gives in to the young couples' wishes to get married. But the villain, who was spurned by Nandu, abducts her and wants to marry her. Chandu gets to know of it and challenges to marry her in front of the villain in his den, and how he does it forms the crux of the film. Till this point, the film just meanders with some unconnected stunts only to showcase the hero's might.
The director tries to give some comic relief in the form of classroom gags. But one has to wait till interval when the actual drama begins. Enter Brahmanandam, and it is a laugh riot from then onwards. He is really a treat to watch.
Though there is nothing much to write home about the directorial skill or the screenplay, the characterisation and some of the dialogues are good. The song picturisations are good too but the dance steps somehow disappoint. Music by Anup Reubens is so-so. On the technical front, the camera work and editing are good.
Nitin has improved his acting skills. He tries to do the dance steps well but the choreography is not up to the mark. Hansika has nothing much to do but look glamarous, which she does with panache. The Nitin, Ali, Brahmanandam triumvirate, post interval, is worth a watch. For a change M S Narayana is seen in a different light -- donning a more serious role as a principal where he even fights the goondas.
All in all Seetharamula Kalyanam (Lankalo) is quite entertaining.
Rediff Rating: